WW2 blitz destroys family home: One woman's experience
By the webmaster's mother, 1906-2002
Carnage, devastation and shellshock
In the second half of the 1930s, my husband's Clarke family moved from Sweet Briar Cottage, a little cottage in Warwick Road on the Huxley Estate where their children grew up to 82 Silver Street, Edmonton, a large house in a set called Pymmes Villas opposite Pymmes Park. There is more about the house and its location at the end of the page. I married their son, Len shortly afterwards.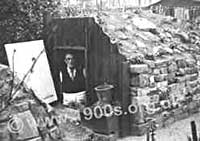 People were surprised when the Clarkes moved, because it was such a large house, bought rather than rented, and a big step up the social ladder. You can imagine what a struggle it was for the family to get to own such a house and how devastating it was for them when it was destroyed, let alone for family members killed and maimed.
The air raid that destroyed the house
It was early evening on the day after Boxing Day, 1940, that the awful thing happened. A landmine hit Pymmes Villas during a German air raid.
It was a very short air raid. I knew because we heard the warning siren and the all-clear in Edgware. It seemed that there was no time at all between them, and Len and I went back to bed almost immediately, little realising the devastation in Edmonton. It being the Christmas period, we had left there only the day before. We had been prevailed upon to stay longer, and as it turned out, it was a good thing for us that we didn't. If we had stayed, my daughter would not be here now and this website would never have been compiled. The story of our family's misery and shell shock would just have been one statistic among many.
The morning after the air raid
Ordinary families were not on the phone. Very few people were. So the first I knew of the carnage in Edmonton was the following morning. I was alone at home in Edgware with my baby (Pat, this website's webmaster) as Len had gone to work. People worked on Saturdays until lunchtime in those days.
I found out later that somebody rang him at the office of the Advanced Linen Services (ALS) where he worked in Golders Green to let him know what had happened.
He wondered how to let me know that he was immediately setting out for Edmonton. He looked down the list of ALS customers and saw that there was one on the phone in Penshurst Gardens, the next road to ours in Edgware, and he phoned them to ask if they would be good enough to take a message to our house at 9 Brook Avenue. When they knocked on my door, they simply told me that my husband's parents had been bombed.
My first thoughts were how to get in touch with Edmonton and Len. I put baby Pat into her pram and went out to try public phone boxes - but I was unlucky, not because of vandalism but because there was a war on.
As my brother Ted was on the phone, I thought perhaps the manager of Edware's Co-op shop would let me use the Co-op phone to phone him. He did. Apparently he had, at one time been the manager of the Silver Street Edmonton Branch and knew Pymms Villas well.
So I got through to Ted and asked him if he would go and check on 82 Silver Street. He replied, "There is no 82 Silver Street".
You can imagine how I felt. Until then, I had had no idea how bad the damage had been, and it never occurred to me that the damage to the house was that bad. "There is no 82 Silver Street" was chilling.
When I asked him to take a message there, he advised me to wait at home for Len. I learnt later that he was relieved to hear from me because a baby had been found dead in the rubble of the villas and he had assumed it was Pat and that Len and I had been killed too.
So I stayed and waited, alone with all sorts of thoughts going through my mind.
The severity of the blitz in Silver Street, Edmonton
Before I go on with my story, I would like to digress to show you the devastation of that air raid. Eye-witnesses, children at the time, explain.
The devastation
This particular parachute landmine was the loudest that the Edmonton residents heard during the whole war.
David Smythe
The day after the bombing my mother and I went shopping and came out of Pymmes Park main entrance onto Silver Street. On the other side of the road between the railway bridge and Gloucester Road was utter devastation. The two blocks of houses that were Pymmes Villas were a heap of rubble. I remember these houses as very old and set well back from the road. Everywhere was dust and a smell that we were soon to get used to as the war continued.
Peter Johnson
The morning after the dropping of the parachute mine, I was on a bus from The Cambridge [the public house landmark on the corner of the A1 and Silver Street], and the bus was held up at the park corner at Sweet Briar Walk, presumably while a path through the road was cleared. Once underway the bus went slowly past what was utter devastation.
Frank Clarke
The realisation of death, maiming and destruction hits
When Len eventually came home, I said, "Where's your mother?", thinking he would be bringing her back with him. I had even prepared the spare bedroom. He just said, "They haven't found her yet". Just that.
It hadn't entered my head that anybody had been hurt. But they had, and their home no longer existed:
Maude, Len's mother, had been killed outright, and Jim, his father, had been taken to hospital, as were his sister Doris and brother Eric. Doris had kept crying out for her mother, and Len's other sister, Mary, had to have her leg amputated on arrival at hospital as it had blown onto the
coal fire
. Apparently she had kept crying out, "Dad, my leg's burning," and he had replied, "I can't help you, Mary. I'm pinned down". As it transpired, she was in and out of hospital for months at a time for years afterwards, and their father, Jim, seemed to have been left in permanent shell shock. Horace, Len's brother, already in the forces, identified the body of their mother. He was allowed home on compassionate leave. Not long afterwards he himself was killed on active service. He was a lovely man, charming and with good looks. He left a wife, Hazel.
Salvaging from the rubble
It fell to the Pioneer Corporation - a army corp used for light engineering tasks - to clear up after the bombing, and quite a lot of things seemed to go missing.

However, after Len's sister, Doris, was discharged from hospital, she came to see me in Edgware, and gave me a parcel. She said, "Here you are, Florrie (that was the name I was known by in the Clarke family). I know that mother would wish you to have this as Len brought it home from Africa for her." It was the ivory crocodile that everyone who has visited my house knows so well. It had been retrieved from the rubble of the bombsite, and was in three pieces which we glued back together. Len had brought a number of things back from Africa, and I appreciate and enjoy most of them, but I always look on the crocodile as something sinister. It sits on the mantelpiece of my fireplace and has been admired by many people. When I tell them the history of it, I say that it is a symbol of the horrors of war, although I know that Pat regards it as a symbol of human triumph over adversity.
Moving on from what happened
The surviving Clarkes were rehoused in Gloucester Road, but I can't remember how quickly.
Len didn't talk about the bombing much. He just seemed to want to forget it and look to the future. For example, when the next air raid came and we were sitting by the stairs (which was supposed to be the safest place before the Morrison shelter arrived), I said to him:
"I feel I can't pray to be kept safe after what happened to your mother", and his reply was:
"You have no business to ask to be kept safe. You should pray for courage and fortitude."
More about the house and its location
The house was one of a terrace of five or six and had been bought from David Hatfield, a preacher in charge of Tanners End Mission which the Clarke family attended regularly. It had three stories with an upstairs bathroom, five bedrooms, a study and a games room, all of which were fairly unusual for the time. Beyond the house was the North Middlesex Hospital, the old military hospital, and beyond that a factory which made stockings. Then came Weir Hall where Jim Clarke had an allotment.
---
---