Extraordinary true stories from the WW2 blackout
The following stories of experiences are all due to it being near impossible to see more than a short way ahead in the blackout.
My mother's kiss goodnight saved my life
My mother's kiss goodnight saved my life in the blackout. I was a tiny baby in the early years of the Second World War. My mother tucked me up in my cot in the dark and bent down to kiss me goodnight, only to find that she was kissing my feet because she hadn't been able to see which way round I was. Without that kiss, my face would have stayed tucked over in blankets and I would have suffocated. I was far too young to push them back myself.
Hilary Thomas
A menacing monster looms out of the blackness
As a young boy in the Second World War I was living in a house with an outside lavatory. Late one evening, after dark, I went outside to this lavatory. Everywhere was very dark because of the blackout. Suddenly I saw a black shape in front of me. It was really huge, filling neighbours' back gardens as well as ours. It wasn't moving. Lurking would be the best description. I was really frightened; I screamed and burst into tears. My aunties heard and ran outside to bring me in.
Later I found out that it was a barrage balloon that had caught on the school spire. We lived at 29 Millfield Road, Edmonton, and our garden backed onto Silver Street School. So the barrage balloon had wafted into the gardens. Even after this was explained to me, I didn't like going out to the lavatory in the dark anymore.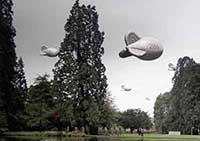 Gerald Ladd
The barrage balloons in the picture from an old film use dramatic licence in that they are shown flying misleadingly low. They were actually deployed at up to 1,524 metres, to force dive-bombers up to a greater height so that they couldn't bomb as accurately.
Alec Fry
Chimney collapsed but there wasn't an air raid
My very first memory was of our chimney being broken down, even though it wasn't in an air raid. It turned out to be the trailing steel cable of a breakaway barrage balloon.
The balloons that caused the damage were stationed on nearby Streatham Common, together with the searchlights. It was possibly the very first example of war damage. I remember vividly my rage at being kept indoors when such exciting things were going on outside!
Alec Fry
How clothes coupons could be eaked out
As the blackout was essential, blackout material was not rationed and clothes were. So enterprising women made full, gypsy-style skirts out of blackout material, decorated with recycled scraps.
Alma Russell
The blackout actually smelt
As we weren't allowed to have the house lights on in non-blacked-out rooms, we made do with a tiny paraffin lamp, like a miniature hurricane lamp. It was painted green and its chimney had a 'mica' window through which the burning wick was visible. The lamp gave off a strong smell of burning paraffin.
Richard Ouston
The acrid smell of spent matches still conjures up the blackout and cold, dark nights spent in the dank discomfort of the Anderson shelter.
Alma Russell
Like blind people out-of-doors
No street lights were on in the blackout, and it was not possible to see from one side of the road to the other. Some people had masked torches. Otherwise, if there was no moon, we felt our way with a stick like a blind person. We lived in fear that if we showed any light the Germans would pick us out with a bomb.
Peter Johnson
Overnight washing
My mother had to keep a wary eye open to bring in her washing, as women were not allowed to leave washing on the line after dark in case the white sheets were visible to the German bombers.
Peter Johnson
The end of the blackout
On the night of VE Day, no blackout was put up at our windows and we saw the lights of the cottages in the village. We hadn't seen them for the last five years.
Alma Russell
---