The typical house on a Victorian housing estate
The locality
The house is one of a row of a terrace of houses on an estate of similar houses, close to shops and schools.
The house
The house is shown in the photo. It is compact and terraced with all the modern conveniences expected of a Victorian and Edwardian home.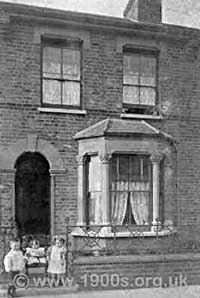 The house has a kitchen, scullery, front parlour and bedrooms. There is also an offroom with a bath, back and front gardens and a flush lavatory outside. There is gas lighting, a copper water heater and a coal-fired kitchen range.
Room plans
For the layout and room plans see the separate page.
The rooms
When looking over the house, you would see the following areas in the following order. They are detailed on their own pages:
the front garden
the porch
the hall, generally known as the passage
the parlour - about 3.23m from side to side and 3.79m from front to back into the window bay
the kitchen
the scullery with a built-in copper for heating water - about 2.61m from side to side and 3.41m from front to back into the sink alcove
the alcove (which provided privacy for washing oneself at the sink which had the only tap in the house)
the yard, the tiled area outside (which stored the food safe and the mangle and tin baths for washdays)
the lavatory
the back garden.
Turning back into the house, you would climb the stairs to the upper floor where you would psee the rooms in the following order:
the landing
the front bedroom - about 4.26m from side to side and 3.15m from front to back
the middle bedroom - about 2.56m from side to side and 3.62m from front to back
the back bedroom, also known as the offroom and much later, the bathroom - about 2.64m from side to side (including the bath cupboard) and 3.29m from front to back
the bath cupboard in a room generally known as the offroom
Facilities
Running water is plumbed in with a tap in the scullery; gas is laid on for lighting; heating is by open coal fires and coal-fired ranges in the kitchen and scullery; hot water is by a coal-fired copper in the scullery (or by a kettle heated on a range); the outside lavatory flushes.
Rent
For an estimation see the page on rents and incomes.
In practice, these houses were highly desirable at the time for working class families, so no selling was necessary. They changed hands by word of mouth.
John Cole
---