Victorian bedrooms in typical working class houses
Based on notes by the webmaster's mother (1906-2002), see sources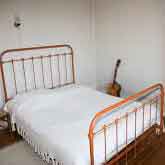 Where I lived as a child in the Victorian-style house of a terraced housing estate there were three bedrooms, the smallest of which was also referred to as the 'off room'. The sketches on another page of the room layout plans show the arrangement.
The main bedroom where my parents slept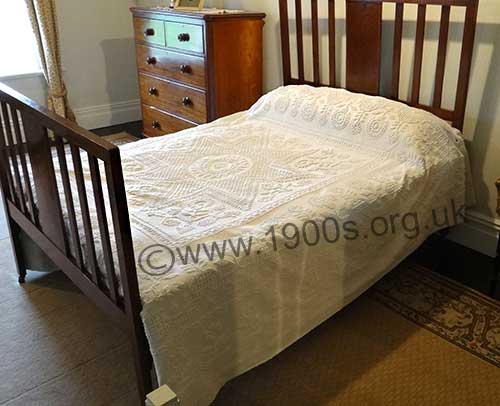 My parents' bedroom was the largest of the three bedrooms and was at the front of the house. It had two windows, a fireplace and two built-in cupboards.
The bed
Their bedstead was iron with brass knobs and the mattress was a feather one.
The bed always had a clean white cover over it, called a 'marcella' (short for a 'marcella bedspread'). It had a honeycomb appearance, and was edged with a white fringe. Round the lower part of the bed was a valance made of white damask which served to hide shoes as well as the chamber pot which was a necessity at night in houses such as ours with no indoor lavatory.
Why beds always sagged: early bed construction
In the late 1800s and early 1900s, a mattress was supported by a full width and length heavy wire mesh, anchored at the foot with the tension adjusted at the head. After time a permanent sag would develop in the middle. This could not be corrected since the tension was only applied to the entire width of the mesh.
Douglas Adam
The chest of drawers
There was a very nice large chest of drawers made of solid wood. The top drawer was bevelled and my mother kept it polished so that it gave a lovely reflection.
The dressing table
The dressing table looked dainty and attractive, although it was actually an improvised affair, made of two large packing cases. It had white muslin patterned with orange and green tastefully draped over it.
On top was a large rectangular mirror supported by swivel arms which could be adjusted for users of various heights.
The washstand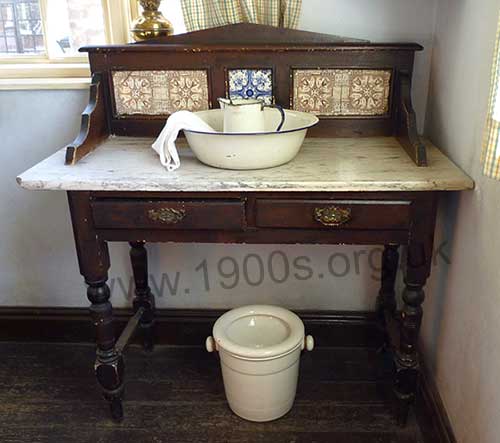 There was also a washstand with a marble top on which resided a large toilet jug and bowl-cum-basin, a soap dish and a vase-like thing for toothbrushes. These items were for display only and for the occasional use by guests, because my parents always a washed themselves downstairs in the scullery. My mother, though, did use the bowl for making Christmas puddings and my father used the jug for his home-made wine.
The fireplace
There was a fireplace in the room, as there was in every room, but it was very rare indeed for it to be lit. It would have been an expense that couldn't easily be justified, particularly when the kitchen was always kept so warm and cosy. Also coal fires were extremely labour intensive. Attached to the fireplace was a shelf made of stone.
The pictures
Above the fireplace hung a middle sized picture. Actually it was a bible text that remains indelibly in my brain. 'Trust and hope'.
The cupboards
There were two built-in cupboards which served as wardrobes, one on each side of the fireplace.
The windows
There were no curtains to pull after dark. Instead there were venetian blinds which could be pulled down and closed tightly. They were made of wooden slats which were heavy and completely inflexible.
There were lace curtains at the windows though. They hung from white cornice poles on brass rings.
The floor
The floor was covered with oilcloth.
The middle bedroom
The middle bedroom had two single iron bedsteads, an inset cupboard, chest of drawers, all on the same pattern as my parents' the front bedroom. There was a chair between the two beds with a candlestick on it. All three of us children slept here until my age dictated that I should separate from my brothers and go into the off room.
While my old grandmother was living with us, there was also a commode because she couldn't manage to sit on a chamber pot.
The third bedroom - the offroom
The third bedroom was very small, but furnished in the same way as the other bedrooms. The most significant thing about it was its large cupboard with its full-sized bath inside.
The mattresses
Flock mattresses and ticking
Flock mattresses were common in ordinary families even until after the Second World War. They were much cheaper to produce than ordinary mattresses which were very hard and stuffed with dense cotton. Flock mattresses had a 'ticking' cover. (Ticking was a durable and conventionally striped fabric.) The mattress filling was wool or cotton waste in granular form. Spring-interior mattresses were by comparison quite expensive when they came along later.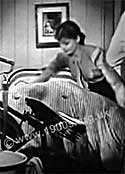 My parents had a flock-filled bolster pillow on their double bed in the 1950s with a feather pillow each on top. They were still using it in the 1960s until latex foam pillows started to appear and were found to be better at providing support. My father used to complain that the flock pillows were, "So lumpy that they were like lying on a pillow filled with granite chippings".
Pam Prior
Pam Prior's piece reminds me of mattress that I had to sleep on as a child which was presumably filled with flock. My mother used to bump it up every morning and referred to it as a 'shh-up' mattress to describe how she had to deal with it. I found that other people's beds felt similar, but always seemed to go down in the middle, so that occupants rolled into the centre. These beds gave uneven support and were very uncomfortable. Old fireside chairs must have been filled with flock too because they had no 'give' in the seats which were hard and lumpy after years of use.
---
---