The parlour in a typical working class house in the early 1900s
Based on notes by the webmaster's mother (1906-2002), see sources
Our parlour, like most parlours, was at the front of the house - see the room plans page. It was probably fairly typical of all the front parlours on our working class housing estate.
How and when the parlour was used
The parlour was a very stiff and starchy affair. No-one ever went in there apart from Sundays and high-days and holidays. It was a cold room for most of the year because we only had coal fires for heating, and the parlour fire had to be lit specially - which was extra work for my mother as well as additional expense. The kitchen, in contrast, was always warm and cosy.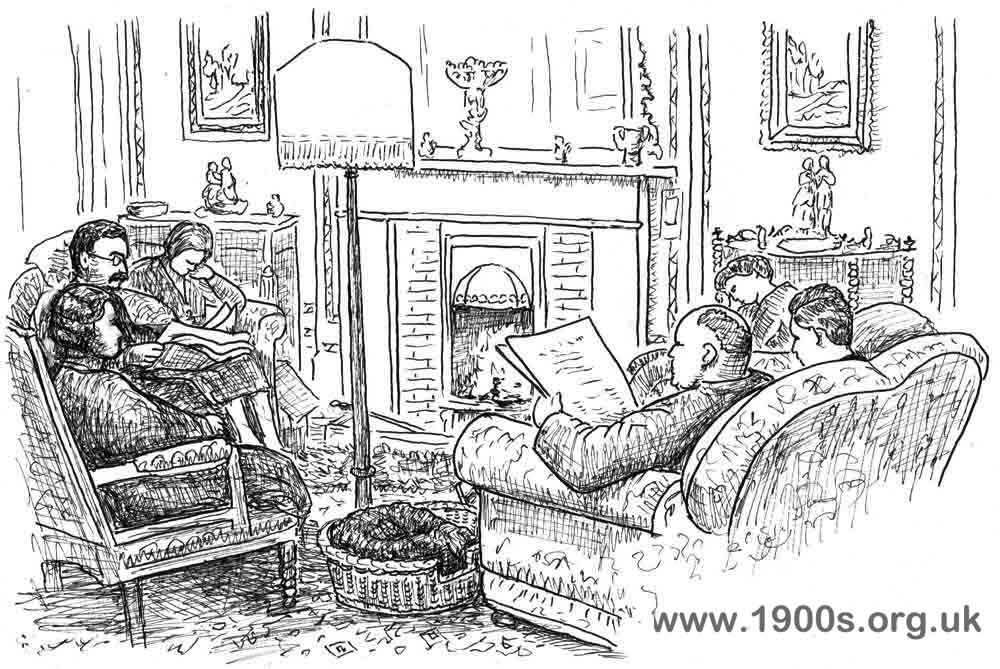 The sanctity of the parlour
Parlours tended to be where no one dared to tread. In fact the front room of many a house was the only one to have a large carpet, and an out-of-tune upright piano was quite common. These rooms were often kept locked and only used for special occasions. If a party was held there, the first job was to 'roll up the carpet' - hence the expression used to this very day. I don't think those carpets ever had a foot placed on them.
Albert Smith
The parlour furniture
There was quite a lot in the parlour:
There was a suite of two armchairs and a sofa upholstered with a brocade type of material in green and brown and four upright chairs. Unfortunately the moth or some other grub got into the sofa and in spite of using moth balls by the dozen, my mother just could not get rid of it until at last my father fumigated the room with I don't know what. Windows and doors were sealed and we were not allowed to go in there for a few days. The smell was vile.
There were also three occasional tables. One was bamboo, another was a polished table with three twisted legs. On these tables were the much treasured aspidistra plants in large ornate plant pots. My mother really looked after her plants: she washed them regularly with chamois leather and fertilised them with tea leaves.
The fireplace
The fireplace was black with coloured tiles at each side. The fender was also black and had to be black leaded when cleaned. Over the mantelpiece was a drape, rather like a curtain net - see the above sketch. It was velvet and a deep plum colour, with large gold daisies embroidered on it, beautifully worked by my Aunt Lene. A large black and gold framed mirror hung above that.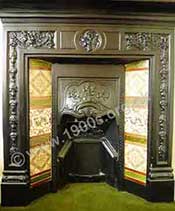 Pictures, picture rails and picture hooks
There were a number of pictures hanging from the picture rails on the parlour walls but I only remember one. It depicted a mother mending a pair of trousers and her children looking on.
The little boy to whom the trousers belonged was standing in his shirt. It really depicted the times as it was called His only Pair. The picture itself was in grey and white and the frame was brown. I have often wondered where it came from. Of course in those days prints were given away by magazines. Bubbles which was put up by Pears Soaps was one of them. That is why so many people had this picture. Another picture was Cherry Ripe which was a pretty picture of a little girl.
It was normal to have narrow decorative strip of wallpaper, known as a frieze running underneath picture rails, but around 1950, most picture rails were removed; the wall was replastered, wallpaper was pasted up to ceilings and pictures were fastened directly onto walls.
Below are two more pictures put up by Pears soap. There are similar pictures on the internet, some with Pears Soap written across them, presumably as advertisement posters. They must have
been subsidised by Pears Soap which was probably why they were so popular in old houses.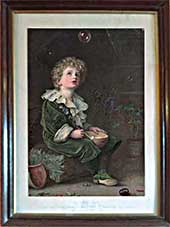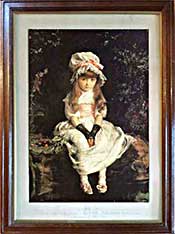 Ornaments
There were numerous small ornaments - 'knick-knacks' as they were called.
The bay window and venetian blinds
There was a bay window, made up of three sash windows. The fashion was to have a lace curtain at the lower half of the window - note lace, not net. They had scalloped edges and were tied by just below the window with a band.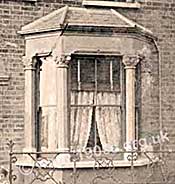 I can't recall any long curtains but we did have venetian blinds, not made of plastic or plasticised fabric, but of real wood. When the room was spring cleaned, all the slats had to be taken out and washed and polished with wash-leather, and the tapes were washed and hung over the line - quite a business.
---
---