Old, rural un-modernised cottages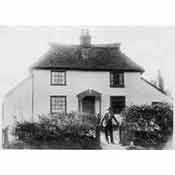 This page describes and illustrates facilities in unmodernised, rural, working-class cottages and how the occupants lived and managed to cope. It includes carrying and using water from a well, using rainwater; washing, lighting, sleeping, the lavatory; growing and preparing food.
____
By the webmaster based firsthand recollections of former evacuees and additional research
Typical rural houses and cottages, early-mid 20th Century
Old rural properties grew up in a haphazard manner with different room layouts, often tiny. They were mainly occupied by manual workers and farmers although there were also some white colour workers, such as postmasters. The cottages and houses were not parts of housing estates like the Victorian terraces or the 1930s estates.
The facilities described below would have been common to them all.
When I was a baby in the early 1940s, I was evacuated to my grandparents who had retired from Edmonton to the country village of West Wratting in Cambridgeshire. My cousin was already there. Her experiences are in the second box below.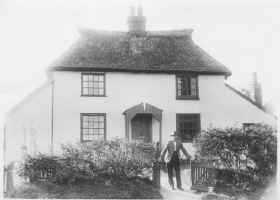 Rural living in Shropshire, early 1930s
Early in 1931 when I was four years old, I was taken to live in the country - at Blackwell Cottage, near Clun. Life was simple.
Lighting: Oil lamps provided light at night and candles lit our way to bed.

Sleeping: My bed had a feather mattress. I wore a nightdress of red flannel, made from an old petticoat of the woman I was staying with. It was very scratchy, though warm.

Washing: We washed in cold water in a small tin bath.

Food: Breakfast consisted of a bowl of thin gruel and a slice of bread and dripping or lard sprinkled with salt, and a cup of tea, which I always drank out of the saucer, "to cool it". I was never told that this was impolite or bad manners. The woman I was staying with did it, so I copied her. Cooking was on an open fire.
The house was quite old; very little, if anything, had been modernised. The facilities were extremely basic. My mother hated it so much that she quickly returned with me to the dangers of the London blitz, but my cousin stayed on.
Rural living in Cambridgeshire, late 1930s-mid 1940s
Getting and using water
ALL our water had to be carried from a stand-pipe across the road or from rainwater butts. So, as you can imagine, every drop was precious. Recycling it was essential and meticulously practised. The village pump was too far away for anything but an outing for me as a child.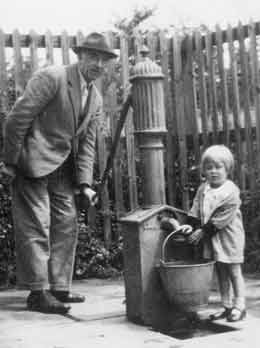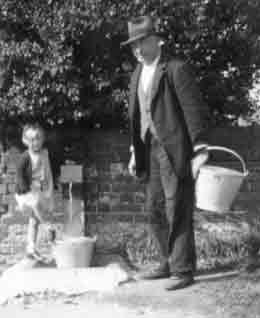 Laundry
Laundry was a major affair. Outside in the garden was the wash-house with a brick copper, various tin baths, including a full-sized one to take an adult, and a mangle.
On Monday mornings, the first task was to light the copper to heat the rainwater from the water-butts. (Once the water was hot, the procedure was very much as it was in older times, as described on the washday page.)
After the laundry was finished, the warm soapy water was used for washing the floors. The final rinsing water was heated for our baths.
The lavatory
Outside in the garden behind the wash house was the lavatory, actually a privy - a wooden bench with a hole and bucket; newspaper for toilet paper; hurricane lamp for the dark nights. It was my grandfather's job to empty the bucket and bury the contents in the garden. Rain, hail, snow or shine, this was what we used except during the night when we had chamber pots.
Lighting
Lighting was by oil lamps and candles.
Food: getting, preparing, storing and preserving
There was one shop in the village, not the selection of shops that we were used to. The meat came by van, as did bread and main groceries. (The van was the one thing that let us know that we were in the middle of the 20th century. Before then, it would have been a horse and cart.)
We had to fetch milk daily from the local farm, taking our own jug.
Yet, in spite of having to do the day-to-day cooking on the very basic facilities of the kitchen range, my grandmother also made jams, preserved fruit, and made our cough mixture for the winter (with blackcurrants, honey and vinegar - no lemons).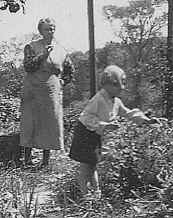 We never had any fruit or vegetables that weren't in season or preserved by my grandparents. Apples and onions were stored in the spare room. My grandfather made his own wine, and root vegetables were clamped up for the winter.
Anne Davey, formerly Anne Cole ((1933-2017)
Rural living in St Agnes, Isles of Scilly, 1960s
Getting and using water
We had no mains water. We used rainwater collected from our slate roof into gutters which ran into our main tank inside the roof.
We also had a large galvanised tank which collected water from our flower house which had a glass roof like an orangery, but my father had to pump from this into the house tank.
There were no filters at all on the water system. We only took water from about a third of the way up the tank. Anything below that was 'settle'.
We only had cold taps. There were three - one low down in the kitchen which had a certain amount of gush when turned on, another one piped from the rainwater tank to the kitchen sink and a further one piped into the bathroom.
It was a wonderful, wonderful life which I recall very clearly.
Julia Wain-smith
---
---