Kitchen tools and equipment before plastics
This page illustrates and comments on tools and equipment that were commonly used in food preparation and cooking before the middle of the 20th century, but are seldom, if at all, seen nowadays. I have personally used all the tools and equipment shown here or seen older people using them.
No plastics - so what were the tools were made of?
These tools come from a time when there were no plastics readily available (other than Bakelite, an early very rigid plastic that chipped all too easily), no man-made fibres, no stainless steel and no non-stick coatings. So all the tools were made from one or more of the following:
Clay, such as earthenware (unglazed, porous and reddish brown); stoneware (glazed, fired at a particularly high temperature to make it hard, and usually white or beige); brick, china
Wood, either untreated and known as white wood or treated with paint or varnish
Metal, such as steel (which tarnished badly), 'tin' which was actually galvanised iron or steel, cast iron or enamel; and later aluminium
Tin - actually galvanised iron
What galvanisation is
Galvanisation is a process that stops iron and steel from rusting. Somewhat surprisingly the result is widely and wrongly known as tin - hence the tin baths that were kept outside in all weathers and were filled with water when in use. There were and still are many more examples. The photo is of part of a modern galvanised lamp post.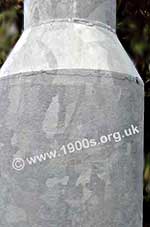 Galvanised iron is made by dipping the iron into hot zinc. The size of the blotches depends on how quickly the cooling takes place.
Galvanised iron has a typically blotchy appearance as shown in the picture.
Because of the development of plastics, fewer objects are galvanised today, but in the past it was common - see for example the goods in a typical old hardware shop.
---