Country families' attitudes to having to take in evacuees in WW2
Why households had to have evacuees
Various rural village families were forced to receive evacuees along with their school teachers. The coach bringing them all arrived at the village hall which was next to my grandparents' house in West Wratting, Cambridge­shire.
How and why my grandmother escaped having evacuees in her home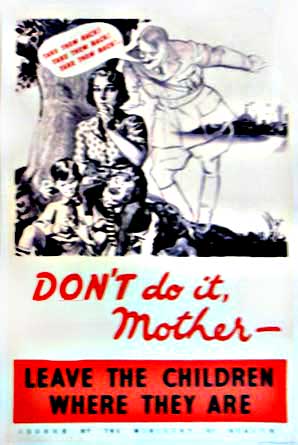 Homes with spare rooms in rural areas were required to have evacuees billeted on them. Understandably they were seldom really welcome. I was living with my grandparents in West Wratting, Cambridgeshire, at the time, and they took steps to make sure they had no evacuees. It was agreed within the family that several of their London grandchildren would arrive to 'fill up' the rooms. They only stayed briefly, though. Then they went back to London. I was more or less a permanent resident, so I stayed.
Anne Davey (born Anne Cole)
What the evacuees were like
The children were real East Enders.
Very few of them, if any, had ever seen the countryside. Being originally from London, because my first school had been Silver Street School in Edmonton, I had a foot in each camp. So I could understand what the evacuees were saying as well as the village dialect, and I could drop into either accent.
Anne Davey (born Anne Cole)
How the evacuees affected our schooling
Things changed with the arrival of the evacuees. In particular, school changed. The village children, me included, went to school in the mornings with the village teachers, and the evacuees went in the afternoon with their own teachers.
Anne Davey (born Anne Cole)
How evacuees affected domestic arrangements
My mother had three evacuees allocated to her: a mother and two young children, probably about 3 and 5 years old.
They slept in our 'spare room', and they lived in our kitchen.
They shared the cooking facilities with my mother, but we ate at different times, with my mother, brother, sister, and I, eating in the dinning room.
Once my mother and I went into the kitchen while 'our evacuees' were eating. My mother asked the youngest child why he had no sausage on his plate, as his mother and brother both had sausages on their plates. He withdrew his hand from under the table and showed us that he too had a sausage. This sausage was clutched firmly in his little hand. How terrible to be eating food with his fingers, and not a knife and fork, we thought! We were secretly rather shocked by this behaviour, but I hope we didn't show it too much. What sheltered and privileged lives we had lead. The war would change all that.
Dick Hibberd
Evacuees' experiences
Evacuees were not always welcome in their host families. If you can add anything to this, please contact me.
---