A university hall of residence in the 1950s UK
Choosing a university in the 1950s
I went up to university in 1957. At that time, of course there was no internet and all one had to go on to choose a university was its brochure and, if one was lucky, the personal experience of someone already there.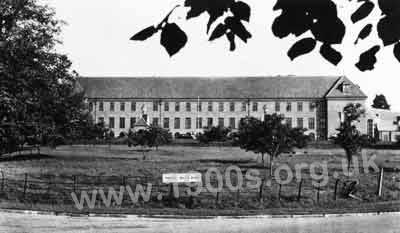 I chose Exeter because I rather liked the Roman sounding name and because my school headmistress had been adamant that part of the university experience was to go so far away from home that one was effectively separated from it. To add weight to the choice, Exeter agreed to accept me, subject to satisfactory A-levels, just on the basis of a photograph! Perhaps my headmistress had to send a reference. Whatever, it was a pretty hit-and-miss way of choosing, of which I am not proud.
How universities varied pre-1992
There were far fewer universities in the 1950s than there are now because the polytechnics did not become universities until an act of parliament in 1992.
Also universities varied one to another, just as they do now. So my experience at Exeter can't be counted as typical. Neither can the student year group. Oxford and Cambridge essentially remained a bastion of the privileged. I, for one, from a grammar school, never bothered to apply. Furthermore the country was still recovering after the short two-year degrees of the war years and the displacement of British youth in the armed forces and then national service. I graduated, for example, a year ahead of my older cousin, simply because he, being male, had been forced to do two years of national service before university. With things back on track, there was much new thinking but also many of the pre-war norms remained in place.
My University hall of residence - the last of its kind
I was placed in a University hall of residence which really was a hangover of formal times. It was called Barton Place. While I was there, large purpose-built halls of residence started going up close to the university, with single study bedrooms, and I believe, although I am not sure, that they were also mixed sex. Barton Place could not have been more different.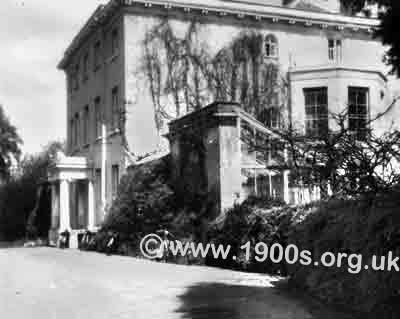 Barton Place was a large and rambling old house in an old country estate. Sheep and cows roamed around it and the views were of patchwork quilts of hillside fields. It housed about 20 female students. I say 'about' because the pressure to economise meant that additional students kept being squeezed in. I was placed in a large room with two other room-mates. There was no quiet room, although a room called the sickroom could very unreliably be used for study if no-one was sick or staying as a guest.
The hall had a permanent live-in warden, Miss Callard, and a live-in matron.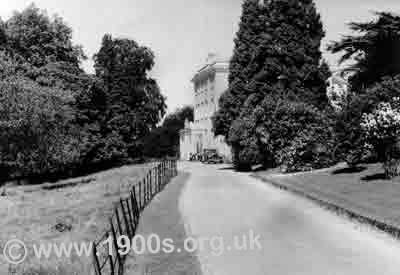 The hall was some way out from the university and it was quite a cycle ride to get in. The better-off students used the bus, but I came from a family where economy was a way of life. Anyway, I rather enjoyed the cycle rides as traffic was sparse.
Scattered around Exeter were other rather similar halls of residence in their own large grounds. They were, though, all bigger than Barton Place with many more student residents, and they were much nearer the university. The exception was Crossmead, a male hall of residence on the other side of Exeter.
The lack of somewhere reliable where I could work quietly was a big problem for me. Clearly the university appreciated the difficulties, which was why the new halls had been commissioned with single study bedrooms, but that was no help to me at the time. I was told I could use the library on the campus, but in view of the distance, that was hardly somewhere to pop into of an evening. I have frequently wished that I had arrived a couple of years later and been able to have my own study bedroom. This remains true even though I have struck up life-long friendships with my hall room mates of that time.
Shortly after I graduated, ie after the new purpose-built halls were in operation, Barton Place closed as a hall of residence and became a postgraduate centre. The last time I was in Exeter, it was a care home for older people.
Heating in halls of residence bedrooms
Devon has a relatively mild climate, but in the winter it did get cold. There was no central heating in the bedrooms, only gas fires, and there was a firm rule that no gas fire was to be turned on until the afternoon. The argument was that we should all be out at lectures in the mornings, but clearly economy came into it - and there were no lectures at the weekends. So every winter morning we got up, washed and dressed in the cold. I wonder now why there weren't major rebellions over it, but I suppose we were children of the war years, who accepted discomfort.
The rule about heating added to my difficulties of finding anywhere quiet to work.
Meals in my hall of residence
All meals were provided in the hall of residence: breakfast, lunch, afternoon tea and supper/dinner. If students wished to miss a meal for any reason, they had to 'sign out' in a special book. A kettle was available in a corridor for making drinks with our own tea, coffee or cocoa.
Twice a week, supper gave way to what was called 'formal dinner'. There was a fine if one was late. I can't remember anyone ever being late or indeed anyone ever refusing to pay any of the various fines.
For the formal dinners, everyone had to wear their gowns. These were undergraduate gowns; there were different ones for graduates. We all congregated in the large and elegant common room which boasted William Morris wallpaper on the walls. Then, when a bell was rung, we all trouped into the small dining room. The warden scanned us all to check that we were wearing our gowns, and we all stood for grace which she said. We were served by the kitchen staff. Once everyone had finished, the warden and matron stood up, and we stood up too. Then the warden led us back into the common room where coffee was served.
In many ways, the experience of the formality was good for me, although it was a glimpse into times past rather than a preparation for the future. I learnt, for example, to use a specially shaped spoon for my soup, to scoop the soup away from me rather than towards me and that any tipping of the plate had to be away from me. I must have learnt much more, but as it became second nature, I can't remember the details. I do know that I was the only student in my year in hall who came from a state grammar school rather than a fee-paying school, and at times, I was made to feel it.
Some of the better-off students went into town some evenings to eat out, but for me that was a waste of money. I was 20 years old before I tasted a fillet steak and that was only because the mother of my overseas room mate visited and took me out.
Entertaining
Strictly no males were allowed up any of the staircases. Entertaining had to be in the common room. There was no privacy.
Staying out late
The warden clearly felt that it was her duty to keep us on the straight and narrow, and indeed legally at that time, we were not classed as adults before the age of 21.
So there was a rule that everyone had to be back in hall by 11pm. The lights in the porch would flash two minutes before as a warning. Then the couples dotted around the porch would separate and we residents would all troupe inside. (Clearly the male undergraduates didn't have such stringent requirements, as they would have got back considerably later.) After 11pm the door was locked. Occasionally there was talk about girls climbing in late through windows, but I can't confirm it. The official line was that the front door bell had to be rung and when the warden answered it she would allocate fines according to how late one was.
If there was a good reason for staying out after 11pm, the procedure was to apply to the warden for what was called a 'late exeat', but we were normally only allowed two per term. I suppose that late exeats meant the warden staying up late to let the latecomers in.
Managing money as a student
There was one way in which our lives as university students were much easier than those of students today: it was in managing money. The only money that I ever handled was what my parents gave me for pocket money.
Local authorities were generous in those days, but perhaps they could afford to be because only 2% of the population went to university. There was some sort of sliding scale according to how much parents earned, but I never knew much about it. As far as I was concerned, I never had to arrange or handle fees for my hall or residence or my course. My parents bought my set books second hand in vacations. No one had to leave university with a debt.
Costs of being a student in 1961
When I was a student at the University of Sheffield, I moved to Stephenson Hall in 1961. While there I kept detailed records of my finances. These were of course in pre-decimal currency.
Hall fees
I paid £58.15.6 for Hall fees in the Autumn term of 1961; £52.17.6 in the Spring Term; and £66.11.0 in the Summer Term. The differences were due to a deposit against damage in Term one, and extra weeks purchased during the Easter vacation just before finals. These fees covered a private study/bedroom, breakfast and evening meal on weekdays, and lunch at weekends.
Incidental expenses
My incidental expenses amounted to around £20 each term. There were no credit cards in those days, nor any ATMs. Each withdrawal involved a visit to the bank, and the payment of 2d (less than 1p in today's money) to cover the stamp duty on each financial transaction.
Costs of common items
My records on the costs of various items are indications of inflation and make fascinated reading:
Typical bus fares were between 2½d (tuppence ha'penny) and 5d [about 1p to 2p]
Lunch in the Students' Union was 1/7 [one shilling and seven pence] [8 new pence]
A cinema visit was between 2/3 and 5/- [11p. to 25p]
Shaving foam was 6/10 [34 pence]
Razor blades were 2/6 [12½p]
A Cornish pasty was 10d [3p.]
Shoe repair was 12/3 [61p.]
A loaf of bread was 8d [3½p]
Half a pint of milk was 4d [1½p]
The Hall tie was £1 [£1]
A haircut was 2/6 [12½p]
A pint of (probably) Mackesons stout was 1/6 [7½p]
Fish and chips were 1/3 [6p]
The train fare home was 15/6 [77½p]
Toothpaste was 2/-[10p]
An extended Hall roll photograph was 5/- [25p][These extended photos were common at the time. There is a picture of one in my own school photos.]
The cost of stress was evidenced by the purchase of sleeping tablets 2/6 [12½p], Pro-Plus (Waking-up tablets !) 4/6 [22½p], Aspirins 1/- [5p] and NHS prescriptions 2/- [10p].].
Costs of less common items
There were occasional splurges, only possible because of the frugality exercised day-to-day, and the work done over Christmas as a temporary postman. I clocked up 77¼ hours in 7 days in December 1961, for which I was paid £14/14/9 [Fourteen pounds, fourteen shillings and nine pence]. That equated to 3/- an hour [15 pence in new money].
Examples of such extravagance were attendance at the French Society's Dinner and Dance, the tickets for which cost 8/6 [42½p], a round of drinks 5/2 [26p]. (I can't think how I got caught with that!), and 7/- [35p] for wine. Then there was a Wine Tasting, presumably organised by the same group, setting me back 7/6 [37½p], and on another occasion, a bottle of wine for a Bring a Bottle party 10/3 [51p]! Sitting on the staircase feeling most uncomfortable convinced me to avoid such invitations wherever possible in future.
I was able to buy my own academic dress from my earnings, and pay for a cheap camping holiday at Sanary sur Mer on the Riviera.
By the following year, both bread and milk had increased by ½d [0.4p] and razor blades were now 3/6 [17½p]. Dinners at teaching practice schools, which had cost 2/- a time in the autumn, had become 2/1.
Now, I was more boldly daring to purchase my own clothes, a green corduroy jacket £7.10.0 [£7.50], Trousers £4.10.0 [£4.50], Shoes £3.15.11 [£3.79½] and Track suit £1.5.0 [£1.25].
I splashed out on a portable typewriter, £26.15.0 [£26.75], and it cost £9.5.0 [£9.25] extra to attend a residential course in Surrey with the Education Department towards the end of the Autumn Term.
Looking ahead, I had arranged a summer break in Southern Ireland, and bought an advance ferry ticket from Liverpool to Dun Laoghaire at £2.8.0 [£2.40].
James Baker
---