Shoe-menders shops in early 20th century England
Based on notes by the webmaster's mother (1906-2002), see sources
Names for shops that mended shoes: snobs, cobblers and shoe-menders
Shops where shoes were made or mended were always called 'snobs' when I was a child in the early 1900s. I don't know why, but everyone did it. Although the term 'cobbler' became more common as I grew older, I doubt if many people would recognise even that now. Shoes have become relatively cheap and almost throw-away items, although shops that cut keys and do various similar services and tend to put new soles and heels onto shoes.
Cobblers were very common in my childhood.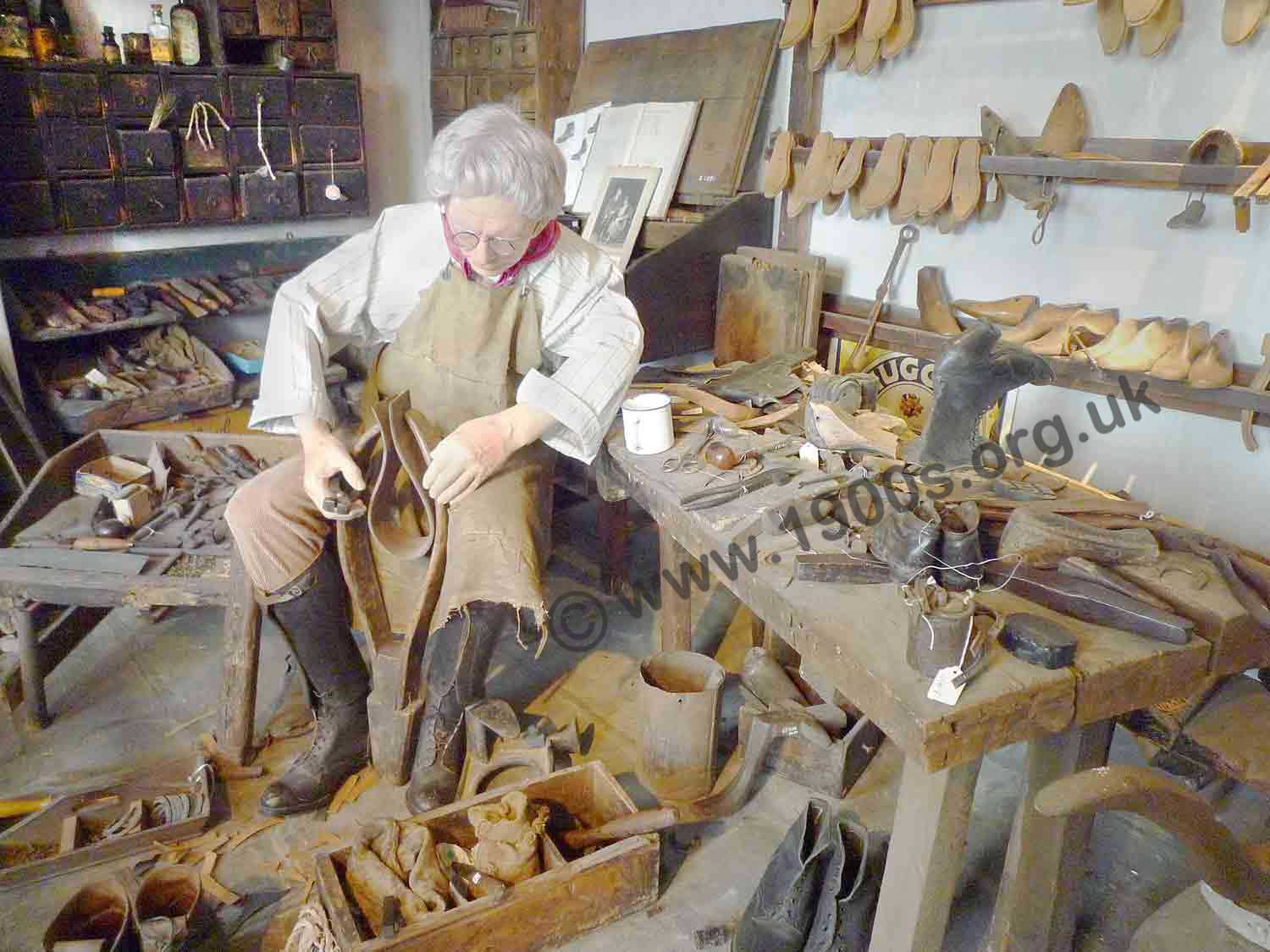 Typical cobblers shops
Although we didn't need to go to the snobs much because my father mended our boots and shoes at home to save money, I clearly remember the times that we did go. The smell of leather and polish when you walked in was lovely
The snobs in Silver Street in Edmonton where I grew up was fairly typical of others that I saw. The illustration at the top of page captures them all perfectly.
Our local snobs was owned by a family called Westbrook: a husband and wife who had two daughters. There was also an old gentleman who I thought was the grandfather.
Mrs Westbrook helped in the shop, taking the money and giving out the receipts and tickets. She was very pleasant but her husband was a man of few words.
Working practices
Most of the work was done by hand. Although there was a machine in the middle of the shop, it was only used to finish repairs off, once the boots or shoes had been soled and heeled.
A 'hobbing foot' and a 'last'. What's the difference?
A 'hobbing foot' was a piece of metal shaped like a shoe which supported a shoe while it was being mended. A 'last' - as I understand it - was (and is) - the wooden form around which a shoe is moulded while being made. In speech, the two often seem to be used interchangeably.
Granddad would sit in the shop with a cape round his shoulders and a hobbing foot between his legs doing some of the repair work.
To me, it seemed amazing how Granddad would put a number of tacks into his mouth and then take them out one by one as he needed them for hammering them into the leather. I was sure he would injure himself, but he never seemed to. His eyes had that screwed up look that people seem to get when they have to concentrate on handwork.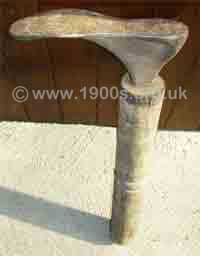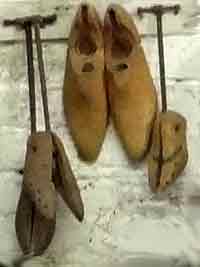 I would suggest that RD on the hobbing foot stands for Registered Design (a similar principle to pateont or copyright). I had a look on a Government website (now no longer available) but couldn't see the design 703160 listed.
Philip Richardson
The device between the cobbler's legs: the cobbler's clamp
The device between the cobbler's legs is a simple wooden clamp. It is similar to what my father used when hand stitching a leather sole onto a shoe 'upper'. As both hands were required to do the stitching, the clamp was needed to hold the shoe in position.
The cobbler in the photo is using the clamp to hold together two ends of a piece of leather, possible in preparation for sewing them together to form a loop.
The clamp works as follows. At the base, the two pieces of wood are joined together. At the top end they are free. When held between the legs, the knees apply pressure bringing the two pieces of wood together, holding the shoe in position.
Laurence McAvoy
Whose grandfather was a shoemaker who started a shoe repair business
in Belfast around the outbreak of the Second World War and whose father
took over the running of the business in the early 1940s
until retirement in 1970.
The living area of a cobblers shop
The living area of the local cobblers
The shop had a small back room with a fire­place which was the living accomm­odation. A door led off into a narrow hallway with a staircase. At the back of the property was a small scullery and another small room leading from it housing a bath - which was probably only plumbed for cold water. The bath always seemed to be full of fish which Eddie (junior) caught, I believe, mainly in the River Lee. He was a very keen fresh fisherman.
Behind the bath on the other side of the wall was the outside privy, which was the usual affair - a chain flush and a seat which was a board with a hole in it.
Upstairs there was a landing with bedrooms off. I cannot remember how many there were. Then there was another flight of stairs up to the sitting room which went right across the property. It was a big room with a full-sized billiards table and various pieces of furniture plus a lovely fireplace. The windows were sash and looked out onto Silver Street. Every time a bus passed they rattled horribly and must have been very draughty.
Pauline Raines
Granddaughter of Edward and Rose Westbrook
Children used for deliveries
My auntie Edie as a small girl would deliver the repaired boots and shoes to the larger houses on a Saturday morning, and bring back all those that needed repairing. These she carried in a sack slung over her shoulder, for which she would get a small wage plus tips, I remember her saying that she used to deliver to Pymmes Villas and the big house in Pymmes Park. I think the Tylers lived there then.
Peter Johnson
More about the local cobbler
The 1911 census shows that my mother's memory was absolutely right: Edward Westbrook, 29, was a bootmaker, born in London, who lived at 103 Silver Street (presumably over his shop) with his wife Rose, 28, born in Islington and daughters Jenny, 4, and Rose,1, both born in Edmonton. Furthermore, Edward's father-in-law, Charles Budd, lived with them. He was a widower, 62, a boot repairer, born in nearby Southgate.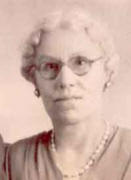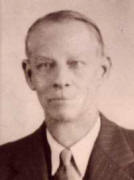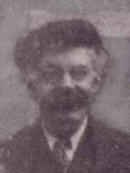 Other cobblers in the area
I remember being told about a nearby boot and shoe mender's shop of the same period run by my own family, the Wilkinsons. It was just on the boundary with Tottenham opposite Noel Park. Working practices would have been very similar.
In the 1930s there was another cobbler in the area run by the Rowley family. See the image of the adverts.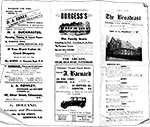 Philip Richardson
---
---