Chemists/pharmacy shops in early 20th century England
Based on notes by the webmaster's mother (1906-2002), see sources
How to recognise a chemists shop
Chemist shops or pharmacists were always distinctive when I was a child in the early 1900s because their windows would display large glass bottles or flasks of brightly coloured liquids.

Why flasks of coloured liquid were common in chemists shops
A teacher told me that flasks of coloured liquids were common in chemists' windows because the levels of literacy were so low that clear symbols were needed to encourage custom. I think these symbols might pre-date the Victorians or perhaps have come from elsewhere.
Paul Dutton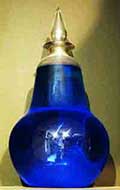 These bottles were for decorative purposes only and were not, as far as I know, medicines. I suppose that they were to indicate that the pharmacist concerned was well-trained because he was able to mix his own medicines rather than just selling pre-packed concoctions.
Chemists' attractions for children: the Oracle
One thing I remember about our local chemist was that he gave us children what he called an Oracle which was no doubt issued as a publicity stunt by some manufacturer. We had to light a match, blow it out and while it was still warm, touch it on the sheet of paper that was the Oracle. This would slowly burn out a picture.
Chemists' qualifications
To be in the pharmacy business you had to have qualifications, which meant that your parents had money. Our local local chemist for where I lived on the Huxley Estate in Edmonton was a Mr Chipchase whose shop was at the corner of Warwick Road and Silver Street. He was a very refined person and was looked upon as only a step below a doctor and was respected as such.
In fact the chemist served as an unpaid doctor and our mothers would ask his advice before calling in the doctor who would always did charge.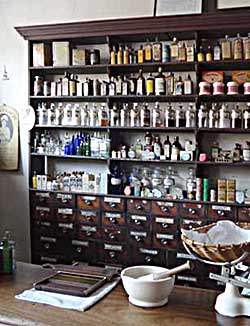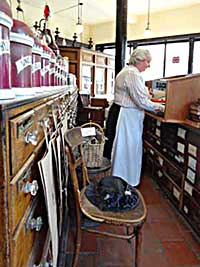 Note from the webmaster
The 1911 census shows that my mother's memory was absolutely right: Charles Herschel Chipchase, 55, a retail chemist, born in Stepney, lived at 75 Silver Street with his wife Emma Chipchase, 54, born Hackney. Their shorthand typist daughters, Muriel Irene, 24, born Bow, and Constance Winifred, 4, born Tottenham, lived with them.
Pat Cryer, webmaster
and daughter of the author
In 2009 this chemist shop mentioned in the census was Alan's Pet and Seed Shop. There was or is still a bricked-up side elevation window in Warwick Road which, according to Alan, was where the chemist dispensed prescriptive medicines out of hours.
Cliff Raven
---
---