Early suppliers of animal foods and pets
Based on notes by the webmaster's mother (1906-2002), see sources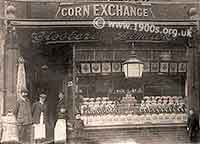 Names for suppliers of grain and other animal feed
It is clear from my mother's notes that a shop that sold animal feed and related items was called a 'corn chandlers' in her area and in her childhood. Yet the following photos show that other names were also used. This is supported by various people I have talked to.
So I conclude that: alternative names for suppliers of animal feed were corn chandlers, corn exchange and granaries. They were effectively also pet shops.
In what follows, I shall refer to them by my mother's preference as corn chandlers.
What corn chandlers were
The corn chandler catered for animals. It had its own unique smell, mainly because of the chicken feed.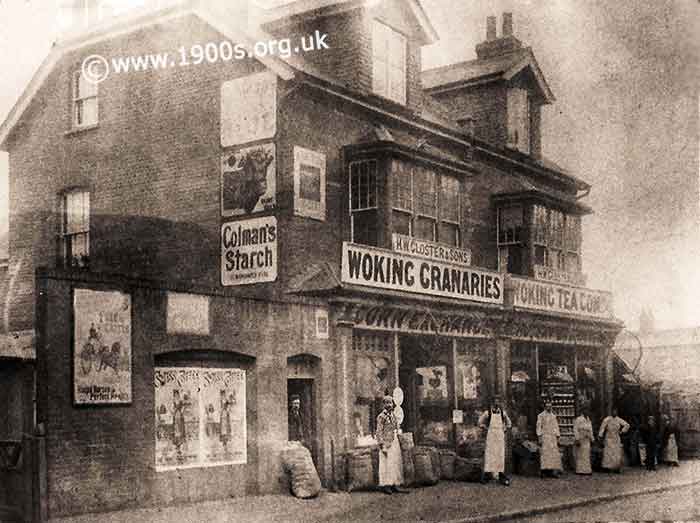 Corn chandlers' wares
Corn chandlers sold bran, corn, maize and other meal and grains. Each type was in its own large wooden container fixed against the wall, and there was a scoop to ladle out whatever customers ordered into individual paper bags.
The shop also sold something that I haven't seen for years: rock sulphur. It was sold for dogs' drinking bowls as it was supposed to make them calmer and more comfortable.
They also sold garden goods, and fly papers which were about two feet long and 4 inches wide. Some women hung these indoors from their gas brackets to attract and kill flies.
It was not uncommon to see dogs' drinking containers outside shops. They were put up by Hudson's Soap and they contained a lump of rock sulphur which was supposed to be calming for dogs. I don't know whether it worked.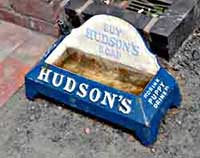 Customers of corn chandlers
The corn chandler's shop was well-used because many families kept chickens and rabbits for food, even though their gardens were small. There was also a need for seed for birds kept as pets in cages and for the sand in their trays.
In more rural areas, the main customers were farmers owning sheep, cattle and other livestock.
'Shops' or 'Yards'?
The corn chandlers that I knew in the 1940s couldn't really be described as shops. They were more like large yards, somewhat like builders' yards. This was in a rural area with several farms around.
Neil Cryer
---
---