The food safe/meat safe for storing food before home fridges

Before fridges became common and affordable, every household and food shop had what was known as a food safe, also known as a meat safe, or just a safe, for storing perishable food. This page describes these safes, explains where they were located and considers their effectiveness. The illustrations add understanding to the descriptions.
____
Based on the webmaster's mother's written recollections edited with additional research by the webmaster
The food safe/meat safe
In the past, a food safe or meat safe was a wooden cupboard with doors and sides open to the air apart from a covering of fine galvanised wire mesh. This allowed the air to circulate while keeping insects out. There was usually a single shelf dividing the safe into an upper and lower compartment, but larger households had larger safes with more shelves. Shelves were normally lined with what was known as American cloth, a fabric with a glazed or varnished wipe-clean surface.
These safes were fairly small because they were primarily for rapidly perishable foods like meat, milk, butter and eggs. However one of the photos further down the page does show an extra-large one with three shelves.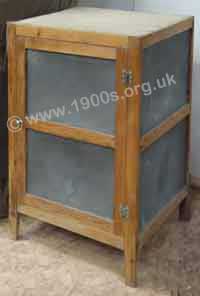 Positions for food safes
As the photos on this page were all taken in museums, they show the food safes on indoor shelves, tables or floors. In practice, though, wherever possible, food safes were hung outside the house in the fresh air, somewhere where it was cool, shaded and draughty. Remember, there were no fridges, and it would have been madness to store perishables in kitchens or sculleries with coal fired ovens and copper water boilers burning away. There was no instant heat from those appliances and neither did they cool down quickly.
For ordinary households like those where my mother lived on the local Victorian Estate, the safes were in the garden passage just outside the scullery door, at eye-level and hung on the wall or placed against the fence that was shared with the neighbour. Consequently these safes were in the shade of one or other of the houses for almost all of the day, and access from the house was quick.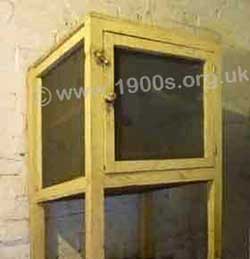 In larger houses safes were often in cool, shaded rooms, partly or entirely below ground. The shelves that they sat on were usually marble or tiled for coolness.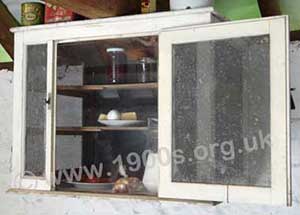 Later on, into the 1930s, when the layout of new houses did not lend itself to placing safes outside, there was often a built-in cool, tiled pantry or larder with a meshed window to outside.
Effectiveness of food safes
In normal conditions, food safes were extremely effective at keeping food fresh. Problems only came with very hot humid days - but then it was normal for milk to be delivered twice a day and for women to shop daily.
Other old ways to keep perishable food edible
Other pages explain how to store food over quite long time periods. The results were edible and just as nutritous but they did not taste fresh. For preserving eggs there were two methods, in isinglass and in vinegar and for preserving fruit there were several methods.
There was also a quick indoor way to keep small amounts of milk and butter fresh for some hours longer.
---
---