The larder or pantry in a typical 1940s UK suburban kitchen
As explained in the page about the 1930s suburbia, the most up-to-date suburban family home of the 1940s was built in the 1930s. So the larder/pantry was modern in the 1930s.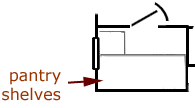 Although all the estates of these suburban houses houses were built to the same basic plan, our estate was fortunate in that the kitchens were larger than most and had small walk-in larders. We always called ours the 'pantry'.
Design of the larder/pantry
The pantry had shelves, walls and window sill tiled in white like the kitchen walls.
As a hangover from the old outdoor meat safes, the pantry window had a fanlight which was covered with wire mesh to keep out flies.
The door of the pantry was self-closing which must also have been useful with flies around. However many a small visiting child was trapped inside while playing. It was always the first place to look when a child went missing.
The contents of the pantry
The top shelf was used for storing tinned food and other non-perishables. It was quite high and we needed a chair to get to it. The middle shelf was at eye level and was used for perishables such as milk and butter. There were no fridges, remember.
On the lower middle shelf was the breadboard and the cutlery box. Both were made of white untreated wood, known as whitewood, and, along with our whitewood kitchen table, were scrubbed regularly with a scrubbing brush and household soap from a galvanised bucket of hot water.
Under the shelves and around the floor were stored the large enamelled bins for flour and bread.
My mother also kept the scales on the floor. They were large, of the balance style, with their own set of iron weights. As the weights were far too heavy for use in general cooking, she relied on volumes: A quarter of a half-pound pack of margarine was 2 ounces; a rounded tablespoon of flour was 1 ounce; a rounded dessert-spoon of sugar was 1 ounce, etc.
Infrequently used pots and pans were piled behind the bins.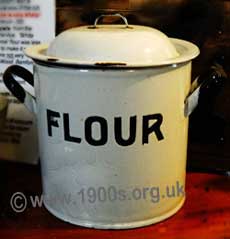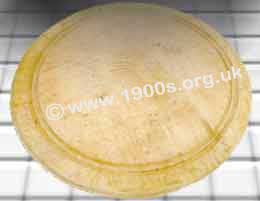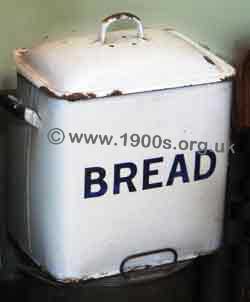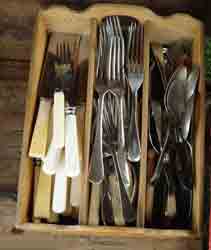 ---
---