The old system of travel warrants for service personnel
The system for travel warrants for men and women in the forces didn't significantly change until the digital era*. So it would have been more or less the same in most of the 20th century, including in the First and Second World Wars. The descriptions that follow come from my experience as a Royal Airforce (RAF) officer in charge of orderly rooms and the clerks who worked in them. This was during a career in the RAF from 1990 to 1998 and previously in the Territorial Army in the 1980s.
What travel warrants were
A travel warrant, also known as a rail warrant or travel voucher, was a voucher that was issued to an individual or group of service personnel for travel on the railways.
Why travel warrants were issued
Travel warrants could be issued for several reasons, e.g. for travel to a training course or for leave. It was rare, in my experience for a senior officer to allow travel warrants for other circumstances unless there was a family death.
Travel warrants for leave were always to a pre-designated location which was usually the area of the family home. The distance was immaterial.
How travel warrants were issued
Travel warrants were administered from what was known as a Registry. There was one in every unit of the RAF - a unit being one's place of work. When I first joined the RAF my first unit was the Royal Air Force College Cranwell; my last was a fighter squadron at Conningsby. A registry was staffed by a sergeant, a corporal and one or more Senior Aircrafts Men.
Usually the corporal was in charge of issuing a warrant. He did so in response to receiving an order, also known as a signal, usually from a type of teleprinter. He gave the travel warrant to the person about to travel and submitted carbon copies at intervals to Station Head Quarters for accounting purposes. New recruits had their travel warrants posted to them.
From travel warrant to train ticket
It was a good idea to get to the railway station early with one's travel warrant as the ticket office had to translate it into tickets. Many years ago, as a sergeant in the cadets, I had to present a warrant for myself and about 20 other cadets to travel from Birmingham to a remote station in Oxford. The ticket clerk was unfamiliar with the warrant system and we nearly missed the train!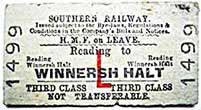 Because the ticket in the photo is marked THIRD CLASS it shows that ordinary forces personnel were not expected to travel in much comfort. As explained on the page about classes of train travel, third class travel was very basic and was already being phased out while I was growing up in the 1940s. As far as I know, my working class family never even had the option of travelling third class. Yet this ticket is dated as late as 1954. It is for Southern Railways, so possibly different lines had different policies. Yet a season ticket is for British Railways.
I remember passenger train tickets being pale green. So has this one faded over time or were forces' tickets a different colour, as were platform tickets? If you can clarify or add anything, please contact me.
Warrants and reimbursement for non-rail travel
In my experience there never were bus warrants. If you had to take a bus after the train, you kept the ticket and submitted it with a travel claim (Form 1771). You could also detail timings so you could be reimbursed for missed meals and what were called "incidentals". Eventually you might see the money again!
I do recall a travel order for a ferry. Once I was issued one for a ferry that had ceased to run about 10 years' earlier! The system was also notorious for trying to issue rail warrants long after that particular line was closed!
Passes for absence
For much of the 20th century, service personnel were expected to travel in uniform. This meant that they could be instantly recognised, so might be accused of being Absent Without Leave (AWOL) - something not uncommon in wartime when so many men had been forced to join up. To meet such an eventuality, the services issued passes along with their travel warrants. These were for inspection by any authority to show that the individual concerned was absent from his or her place of work with the agreement of the commanding officer. (Nowadays service personnel are not required to travel in uniform as it singles them out for terrorist attacks.)
A pass can be for annual leave, for 24 or 48 hours for a day or a weekend off, or just for part of a day away from the base. Nowadays a pass is usually referred to as a leave pass and is permission to be away from ones place of duty.
Passes were even required for leaving the camp/barracks just for an evening. In the armed forces, every second of every day belonged - and still belongs - to someone else. So if you were off-base for an evening, you had better have had permission!
Both warrants and passes are a feature of military life, regardless of whether a war is on.
Sources
During my time in the RAF I had access to archival material from the 1950s which confirmed that the travel warrant system was more or less as described above. Several of the post- World War Two national servicemen mention travel warrants on this website. My father's leave passes mention travel by warrant and are dated earlier still, namely 1941. I also understand that T E Lawrence (of Lawrence of Arabia fame) mentions being given a travel warrant when he was posted to RAF Cranwell which must have been in the mid-1920s. So the warrant system must have been around from at the least the Great War if not before.
One of my older friends was a pay clerk in the RAF in the early 1950s and he confirmed that its administrative systems were pretty much the same down the ages, the only real change came with the digital era. In particular pay then started being paid into bank accounts rather than in a pay parade.
---
---