Experiences of post-war National Service in the RAF (1 of 4)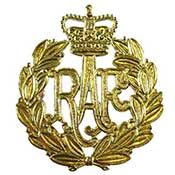 How I managed to join the RAF
After the war, when I was 18, I was conscripted for National Service, and on examination was told that I would be joining the army. I was horrified, and told the examining officer my family's history in the Royal Air Force (RAF): My father had been in the Royal Flying Corps (RFC) in the first world war, and was in the RAF Volunteer Reserve during the peace between the wars. On the first day of WW2, he had gone straight back into the RAF. My sister and brother were 10 and 7 years older than me. My sister was first to be 'called up' and went into the Women's Auxiliary Air Force (WAAF); my brother was later 'called up', and he too went into the RAF.
So I pleaded that I too should join the RAF, and furthermore that I needed to be posted to Germany, where my parents were living. He didn't hold much hope for either of my wishes being fulfilled, but made a note of them.
Some days later I received my call up papers, and I was very relieved to see that I was to join the RAF.
Basic training at West Kirby
I was to report to the Guard House at RAF West Kirby, on the Wirral, on December the 2nd 1947 at 09.00hrs. Enclosed with my papers was a travel warrant.
At West Kirby, life seemed to consist largely of square bashing. It was called basic training.
The cold
Being December it was cold, and coal was desperately needed to supplement the ration for our billet of 30 airman with its just one Pither stove. We were all allocated just 3 blankets to which we added our great coats in an attempt to keep out the cold, but without the stove, we just froze. It is amazing how this stimulus produced a plan with which I assisted.
The plan to keep warm at night
The compound was patrolled at night by two guards. At night whilst the guards were passing each other on the far side of the compound, three of us would run down to the compound fence, two would make a step by joining arms, the third would stand on their arms, and leap up to the top of the wire fence, and pull himself up and over, and then hide whilst the helpers ran back and hid in the shadow of the billet. The guard would march past, and all would remain quiet until the guards reached the far side of the compound again, at which point, our man on the inside would hurl large lumps of coal over the fence, which would be collected by his assistants and brought back to the billet. And so on, until we had enough coal, and when this was signalled to our man on the inside, at the appropriate moment with the guards in the distance again, he would scale the wire fence, which was possible without assistance from the inside, and we would all gleefully stoke up the stove, until it glowed red hot!
RAF Kinloss for further training
After my 8 weeks 'square bashing' at West Kirby, I was posted to RAF Kinloss which was about as far away from my home in Germany as was humanly possible. I was simple RAF Clerk General Duties, AC1, with very little to command. I declined to apply for a Commission when my CO suggested it because my brother was not an officer and he was everything I wanted to aspire to. Anyway it would probably also have meant that I would have had to serve another six months!
Service number and pay
2377035 was my service number. You never forget your service number! When you went on Pay Parade, your name was called, and you marched forward to the desk where the Pay Officer was seated. He or she said your name, and you said "Sir, 035, sir" (the last three digits of your service number). You stood to attention, saluted, and your pay was passed to you. No number, no pay.
Demobilisation
I managed to get myself demobbed in Germany two years and three months after enlisting. That was in March 1950.
---
---