Experiences of post-war National Service in the Royal Navy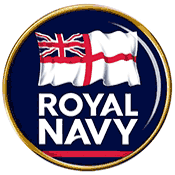 The duration of National Service as an early conscript in the Navy
It would appear from the dates in the menu that my National Service lasted only a year. In fact it lasted 18 months. This apparently short time was due to my being one of the first conscripts.
At the start of post-war National Service, it was to last for just one year, but before it had even got off the ground it was changed to 18 months. Only a month after I had been demobbed, it was put up to two years because of international tensions in the middle and far east and the cold war.
The call-up
At my call-up in 1949, I had to undergo a medical examination and sit an exam which was a kind of intelligence test. We recruits were asked which of the services we wanted to go into, but were told that it would depend on the test results. I asked for the Royal Navy (RN).
I count myself as very lucky that the RN accepted me. I understand that they only took around 5% of the men available.
Basic training attached to HMS Royal Arthur at Corsham
My first stint was 7-28 March 1949 for basic training with HMS Royal Arthur at Corsham in Wiltshire.
I arrived with another recruit who I met at Bath station. We shared a bus ride and a long walk to the camp. It was wet, cold and muddy and it didn't help that as we staggered down the lane with our luggage, we were greeted by those already behind the camp fencing shouting, "You'll be sorry".
At Corsham, we were kitted out and were given vaccinations, hair cuts, etc. Then there were the drills. l was getting to know the ropes.
Further training attached to HMS Ceres near Wetherby
Between 29 March and 27 June, I was attached to HMS Ceres near Wetherby in Yorkshire, where I was trained to become a storekeeper, along with lots of enforced exercise.
It was here that we got our first weekend leave. The camp was very near to Wetherby racecourse and if we went across in ones and twos on race days, the gatekeeper let us in for free.
Work attached to HMS Siskin at Gosport
I spent the remainder of my National Service days as a storekeeper with HMS Siskin at Gosport. This was between 28 June 1949 and 1 September 1950.
I was one of the lucky ones: I had my own stores to look after (one of only three) in a wooden hut opposite one of the aircraft repair hangars at the RN air station at Gosport. I had my own bicycle to get around and I looked after consumables such as nuts and bolts and loaned out tools such as screwdrivers.
My store was adjacent to the airfield which had 705 squadron of helicopters stationed there. The pilots were in a room adjacent to mine but whilst I faced the hangar, they faced the airfield. I didn't have to travel at all, although some of the lads were loaned out at times, to smaller depots along the coast.
I made loads of friends. In the forces it was easy and natural to mix in with everyone, not just the national service guys. I played some tennis, played my records in a hut by the parade ground that was available for such hobbies - and I spent far too much on days out at dance halls, pubs etc.
Pay
The pay was 28 shillings a week. It may seem paltry now, but I only earned £1 a week at my first job with a firm of chartered accountants. (My first pay rise there, after a year, was 2/6d (two shillings and six pence.)
Uniforms
During the working day we National Service ratings wore a uniform knows as 'No.4s' which was primarily trousers, shirts and caps as shown in the photo.'Rating' is a term applied to anyone who is not an officer, i.e. someone you don't have to salute!) These uniforms were worn by cooks, writers and supply ratings, etc. Oddly enough, in 2015, it was announced that 'No.4s' were to be changed for the first time in 70 years to bring them more into line with modern fashion.
We also had 'best' uniforms where the badges on caps and uniforms were all gold. National service ratings had to buy our own best uniforms and the money we owed the tailor was stopped a small amount at a time from our fortnightly pay.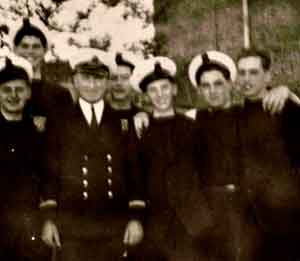 Other branches of the navy wore the 'square rigged' uniform that was so dramatically noticeable for sailors on leave during the Second World War. It was navy blue with a lighter blue collar which had a white trim round it and hung like a large square down the back; the trousers were wide at the bottom. The shade of blue seemed to vary and I wonder if the number of times it had been laundered was responsible. I understand that the uniform is still in use (as I write in 2015), although probably not seen much by civilians because forces personnel no longer wear uniform on leave because of the danger of being identified for terrorist attacks.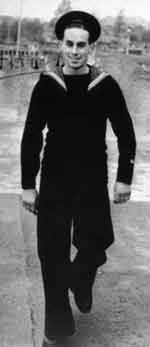 There are some small differences between the summer and winter uniforms, as white is the predominant colour in hot countries.
Demobilisation
I had to go the Victory barracks at Portsmouth to be formally demobbed. I was asked if I wanted to sign on and was offered promotion to Acting Leading Hand if I accepted. However, I had a civilian job to go back to and the firm was due to move from my hometown to London, so I didn't accept. I did, though carry on for five years as a voluntary reservist - see the next section.
During my 18 months of National Service, I never got to go to sea in a ship - although I did travel in the Gosport ferry a few times!
The Royal Navy Voluntary Reserve
I had a further 5 years with the Royal Navy Voluntary Reserve (RNVR).
At first, as I'd moved from Sheffield to London in my civilian job, I was with the London Division. I spent a lot of time on HMS President which was moored on the Thames and is now a very posh venue for conferences and weddings etc.
I then moved back to Sheffield and was sent to HMS Blackcap, another air station where I became a Leading Stores Assistant and eventually got my first long-service stripe.
I had some eventful trips whilst with the RNVR as we had to go off for a couple of weeks every year:
One trip was joining HMS Vanguard at Edinburgh on a very cold dawn in October 1952. We sailed up the coast, and it was a very, very tough assignment. We slept in hammocks in very cramped quarters. The heads (lavatories) were totally without privacy and it was so cold that when we were loading supplies aboard from another ship my hands froze and I didn't realise I was bleeding badly until an officer sent me below to warm up. I realised how lucky I'd been never to see a ship in my National Service days.
Another trip was quite the opposite. It was a dream posting and I would have loved to stay there for ever. It was in 1954 when I was sent to HMS Falcon, an air station in Malta. We flew from Blackbushe airport on a government chartered flight with Hunting-Clan airlines. We started work about 6 a.m. and finished at 2.p.m as it was too hot to work after that time. I saw a lot of Malta and the great people there and made many new friends.
I left the RNVR in 1955 as by then I had got married and didn't want alternate weekends away from home.
Reflections
I enjoyed my national service and still look back on it as one of the best times of my life. I learnt a lot that has served me well in my life and I made a lot of friends.
---
---