First, second and third class train travel in 1940s & 1950s Britain
When I was growing up in 1940s and 1950s England, I do just remember seeing trains with coaches marked with First, Second and Third class on their sides. This would have been at one of the London terminuses.
Coaches at the time were known as carriages.
Second and third class
Most railways abolished second class in the late 19th century (although the Great Western Railway was as late as 1910). The two remaining classes were then known as first class and third class. We never considered travelling anything other than third class because my parents were always concerned about spending money.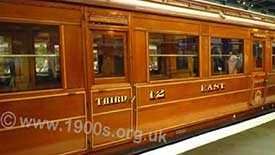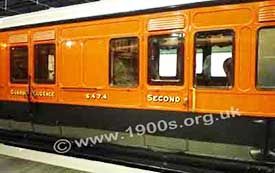 In 1956 third class was re-named to second class and, much later in the 1980s, it became 'standard'.
There is a 1954 third class season ticket on the tickets page.
First class
I never knew anyone who travelled first class, as this would have been regarded as dreadfully wasteful. Yet, some people must have done it or the railway companies would have withdrawn the first class carriages.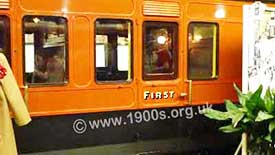 Pullman cars
I also saw carriages known as Pullman cars which served food and were very elegant, with ornamental table lamps and linen table cloths on the tables. Waiters in white coats took orders for meals which were cooked - not reheated - on the train. However, my knowledge of Pullmans came only from what I was told and from looking in at them from station platforms because they ran in association with first class carriages.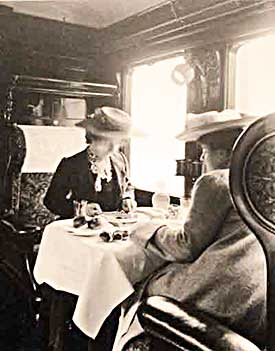 ---
---