Sights and scenes on railway station platforms mid-20th Century
There was always a lot to see on the platforms of the large stations.
Porters
There were always porters on the platforms of the large stations, ready and waiting to earn a tip by carrying passengers luggage for them. They had special trucks and trolleys as shown in the photographs.
Bench seats
Benches were provided for passengers who preferred not to stand while waiting for a train. Like so many other things at that time, these were made of wood, but not to a standard style. Being wood, they had the advantage of not feel cold to sit on, but they did of course need regular maintenance in the form of coats of varnish. The photos show some examples.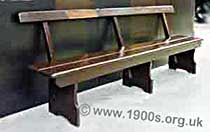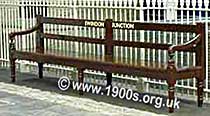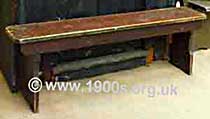 Station names
One the pictures of station benches shows the station name. This means that it was either before or after the Second World War, as during the war all outside place names were removed so as to be of no help to an invading army.
There was a television programme I watched a few years back in which someone who travelled on a train during the war commented "I was really surprised at how every time we came to a station the place seemed to be called 'gentlemen'". He didn't realise that these notices indicated the toilets and that the station names had been taken down.
Patrick Wood
In fact all place names were removed to hinder the enemy in case of invation. Street names and signposts were taken down and milestones were buried.
Enamelled advertisements
On the walls or fences of platforms were advertisements. These were typical of the time, in that they were enamel on metal. The enamel gave an attractive glossy finish and was relatively weatherproof. However, by the time that I remember them during the Second World War, they had invariably been chipped, letting the damp in and causing rust - see the photos below. I never noticed any new ones after the war, probably because plastics were coming in.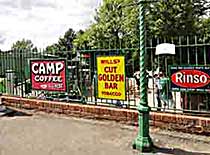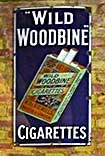 ---