How phone numbers changed through the 20th Century in the UK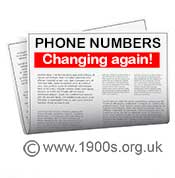 The style of telephone numbers changed over time as technology improved and made better communication possible. This page traces changes in telephone numbers from early single-numbers through letters-with-numbers to all-long-numbers. It introduces Subscriber Trunk Dialling (STD) and describes the impact it had on people. Also discussed are the logic behind text area codes and how callers could find numbers they needed from telephone directories and enquiring through the operators. Public reactions are included.
____
By the webmaster: her childhood recollections with further research and contributions from others who lived at the time
Phones without phone numbers
Phones - as candlestick phones - started creaping into wealthier households in the early 20th century, served by a small telephone exchange, probably in the back of a shop or village post office. It wasn't strictly true to say that these phones didn't have numbers. They did, but there was no way that anyone could use their phone to connect to another number. The only way that a connection could be made was via whoever was looking after the telephone exchange. But they couldn't even dial it. They had to jiggle the receiver up and down which would or should attract the attention of who we might call the operator - possibly the village post mistress or newsagent - wherever the exchange happened to be situated. Quite likely that person was serving at the front of their shop at the time, so it took a while to connect.
The person looking after the exchange, did of course have to know the number of the phone that was calling and the number to connect with. As so few people were on the phone, the phone numbers were usually only in single digits. Perhaps the manor house was 1 and the village butcher was 2.
The exchange could not only connect one phone to another in its own tiny area, it could also make connections to other exchanges, which could make connections to other exchanges, and so on.
Early single-digit telephone numbers
The next development was for the phones - stilll normally candlestick ones - was to have their number dials with their own phone number marked on the centres of the dial. With this type of phone, one subscriber could dial another but only on that very small exchange which meant only in the small local area.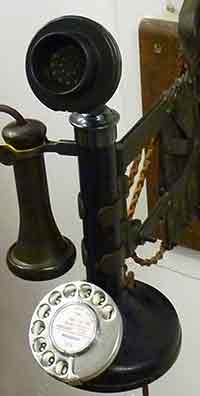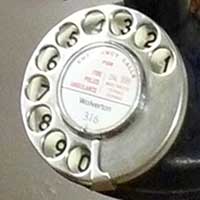 Letters-with-numbers phone numbers
According the following old poster shown below, by the 1930s phones in some areas could make connections directly to phones in other areas because exchanges were larger with permanent connections to more exchanges and with many more operators. The system required new phone numbers: an area code of three letters followed the subscriber's numerical number of four numbers. The result was still called a number even though it included letters. Confusing - sorry, but it should become clearer as you read on.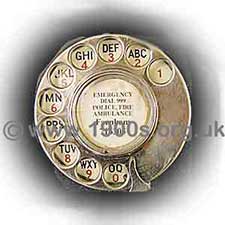 Around this time most subscribers went over to the more modern phones which held both the speaker and ear piece.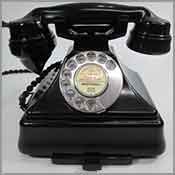 Area codes
There was a logic to area codes being letters rather than numbers, in that they were the first three letters of the name of a local area. Our family lived in Edgware on the outskirts of London where the code was EDG, but so as not to overload the system, we were allocated STO which stood for Stonegrove, an area on the outskirts of Edgware. So our telephone number was STO 9804. That was how it was written, but see below for how it was spoken.
The numbers after the area code were always just four digits.
First areas to have letters in their phone numbers
In the middle of the 20th century, only telephones in the wider areas of London, Birmingham, Edinburgh - and from the early 1950s onwards - Glasgow, Liverpool and Manchester had letters on their dials. Elsewhere, even the automatic telephones just had numbers. When dialling a city number from a rural area you still had to go through the operator by dialling O.
Ian Jolly, one-time telephone engineer
How telephone letters-with-numbers were spoken
These phone numbers were always spoken with the full name of the area code. So, with our STO 9804 telephone number, we announced who we were on answering our phone, by saying, "Stonegrove 9804", not STO 9804. Incidentally, it was considered very bad form just to say "Hello". How times have changed!
Telephone directories
There were telephone directories of subscribers' telephone numbers. They were supplied free of charge to those households with phones and to public phone boxes. They were huge tomes, even though the print was tiny and the paper flimsy. A single book was out of the question because there were so many telephone numbers. So the directories came in several books. I remember that the first one was A-D by surname of the head of the household, but I can't remember the others. Inside, heads of households were listed by their surname and the initial of their given name followed with their address and telephone number. (Subscribers could choose not to be included for the sake of privacy, i.e. to be ex-directory.)
The first photo below gives an indication of the size of telephone directories. compared with a normal the phone book. You can just see them stacked on the right-hand-shelf. Ours at home were kept on a shelf under what was called our telephone table. The Post Office updated them regularly, but I can't remember how frequently.
A separate directory with a yellow cover gave business telephone numbers. Everyone called it the 'Yellow Pages'.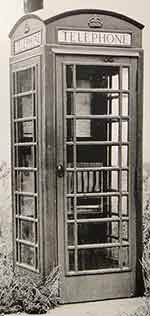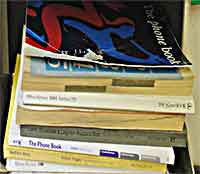 As another indication of the size and thickness of telephone directories, it was a typical strong-man turn at fairs which demonstrated that he could manage to tear one apart. Visitors were invited to have a go, but only a very small few could manage it.
Area code displays in call boxes
Telephone directories didn't last long in telephone boxes as people took them for various reasons, but there was a display of area codes mounted on the wall of each box. One is shown in the following photo. It enlarges to a legible size on tap/click, but there is also a transcription below.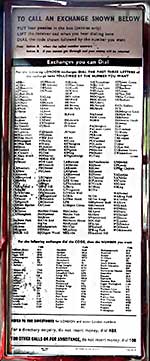 Letter area codes for the wider London area
A:
ABBey
ACOrn
ADDiscombe
ADVance
ALBert Dock
ALPerton
AMBassador
AMHerst
ARChway
ARNold
AVEnue
B:
BALham
BARnet
BATtersea
BAYswater
BECkenham
BELgravia
BERmondsey
BEXley Heath
BIShopspate
BOWes Park
BRIxton
BRUnswick
BUCkhurst
BUShey Heath
BYRon
BYWood

C:
CANonbury
CENtral
CHAncery
CHErrywood
CHIswick
CITy
CLErkenwell
CLIsgold
CLOcktower
COLindale
CONcord
COPpermill
COVent Garden
CREscent
CROydon
CUNningham

D:
DANson Park
DERwent
DICkens
Diligence
DOLis Hill
DOMinion
DRUmmond
DRYden
DUNcan

E:
EALing
EASt
EDGware
EDMonton
ELGar
ELStree
ELTham
EMPress
ENField
ENTerprise
EUSton

F:
FAIrlands
FELtham
FIEld End
FINchley
FITzroy
FLAxman
FLEet Street
FLOral
FOOtscray
FORest Hill
FOX Lane
FREmantle
FRObisher
FULham

G:
GEOrgian
GERrard
GIBbon
GIPsy Hill
GLAdstone
GOOdmayes
GRAngewood
GREenwich
GROsvenor
GULliver

H:
HADley Green
HAMpstead
HARrow
HATch End
HAYes
HEAdquarters
HENdon
HILsde
HITher Green
HOGarth
HOLborn
HOP
HOUnslow
HIGhgate Wood
HILside
HITher Green
HOGarth
HOLborn
HOP
HOUNSLOW
HOWard
HUNter
HURstway
HYDe Park

I:
ILFord
ISLeworth
IVAnhoe
IVYdale

K:
KEAts
KELvin
KENsington
KILburn
KINgston
KIPling
KNIghtsbridge

L:
LABurnum
LADbroke
LAKeside
LANgham
LARkswood
LATimer
LEE Green
LEYtonstone
LIBerty
LIVingstone
LONdon Wall
LORds
LOWer Hook
LPR
LUDgate Circus

M:
MACaulay
MAlda Vale
MALden
MANsion House
MARyland
MAYfair
MEAdway
MELville
METropolitan
MIL Hill
MINcing Lane
MITcham
MONarch
MOOrgate
MOUntview
MULberry
MUNicipal
MUSeum

N:
NATional
NEW Cross
NORth
P:
PADdington
PALmers Green
PARK
PERivale
PINner
PLUmstead
POLlards
POPesgrove
PRImrose
PROspect
PUTney

R:
RAVensbourne
REDpost
REGent
RELiance
RENown
RIChmond
RIPpleway
RIVerside
RODney
ROYal

S:
SCOtt
SEVen Kings
SHEpherds Bush
SHOreditch
SILverthorn
SKYport
SLOane
SNAresbrook
SOUthall
SPArtan
SPEedwell
SPRing Park
STAmford Hill
STEpney Green
STOnegrove
STReatham
SULlivan
SUNny Hill
SWIss Cottage
SYDenham

T:
TATe Gallery
TCY
TEDdington Lock
TEMple Bar
TERminus
THOrnton Heath
TIDeway
TLD
TOTtenham
TOWnley
TRAfalgar
TREvelyan
TSW
TUDor
TULse Hill
TURnham Green
TWIckenham Green

U:
UNDerhill
UPLands
UPPer Clapton

V:
VALentine
VANdyke
VICtoria
VIGilant
VIKing

W:
WANstead
WARing Park
WATerloo
WAXlow
WELbeck
WEMbley
WEStern
WHItehall
WIDmore
WILlesden
WIMbledon
WOOlwich
WORdsworth

Some areas on the outskirts had an area code which did not readily indicate the area concerned and could not necessarily be pronounced as a word. For example for Orpington you had to dial the area code of MX followed by the number. If you are interested in more in the list, magnify the above image to a legible size and look at the lower section.
Subscriber Trunk Dialling (STD): long all-number telephone numbers:
As more and more people went on the phone, more numbers were needed, and it was decided to change area codes from letters to numbers and to bring the whole of the UK into a direct dialing system. The idea was that more numbers could easily be added at any stage by putting an extra digit in front of the original numbers. The system was called Subscriber Trunk Dialling (STD for short). The word 'trunk' came from trunk call which, with its old meaning, was now a thing of the past as people no longer needed to go through the operator to make a long distance call.
Subscriber Trunk Dialling (STD) was a big step forward in telephone communication. It was a system whereby callers no longer had to go through an operator to connect to a phone outside their local area but could dial it directly using a just a number. It began in 1958 in the UK and was completed in 1979.
All area codes began with a zero. The area code for London, for example, was 01 and for Manchester was 061. The resulting phone numbers were long, starting with the numerical area code and continuing with the four-figue number for the phone concerned.
The change meant that 0 could no longer be used to dial the operator, so this was replaced by 100.
Codes were later changed as more numbers were needed with increasing numbers of subscribers.
Public reactions to Subscriber Trunk Dialling
Most people I knew were irritated rather than impressed by the change. For a start, dialling O for the operator was so much more sensible than having to dial 100, which felt like change for change's sake, and telephone numbers with letters were much easier to remember than all-number ones. Also people had invested in printed headed writing paper showing their address and telephone number which was now out of date. Some people decided to buy new, showing the all-number phone number, only to find that after a very short time, this phone number was again out of date as more digits were added. The benefit of being able to dial directly to another part of the country paled to insignificance.
Of course, we have all got used to it now.


---
---