Cinemas and theatres in old Edmonton UK: recollections and photos
All of the following photos with their commentaries have been generously contributed by individuals whose families lived in old Edmonton. I never lived in Edmonton myself.
The Empire and the Alcazar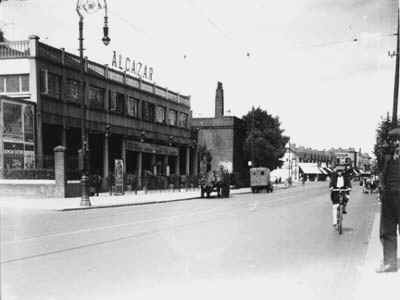 The Alcazar in old Edmonton
The Alcazar in Edmonton was built in the 1930s as was The Granada at Lower Edmonton on the hill that went over the lower level railway line. The building had been a former Edmonton Empire of music hall days. I think it was Florrie Ford who took ill there and died. [Mary Lloyd has corrected this to Marie Lloyd.] If anyone was going to pictures on Saturdays before then, they probably went to the Alcazar which was bombed down in wartime 1940. Two other cinema house existed earlier than these.
Cliff Raven
The Hippodrome
The Hippodrome in old Edmonton
The Hippodrome was in Angel Road Edmonton just along from the Grey-Green bus garage and the Bricklayers pub. Another early Edmonton flicks house was opposite to Plevna Road on Fore Street Lower Edmonton. It had an early one wooden floor and benches and and a piano player for the likes of Charlie Chaplin.
The Hippodrome started life as a theatre and was then converted to cinema, and as a cinema it closed just after WW2 then it was used as a billiard hall until it lay derelict for many years. I can remember the building into the 1960s. The site is now a car park. An interesting story is that at one time there were no toilets inside and you had to come out of the building and avail yourself of the local householders nearby, I am sure for a fee.
Cliff Raven
The Regal
There is more about inside the Regal and its programmes from the menu on cinemas in their heyday.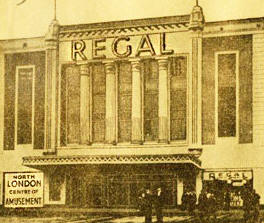 The site of the Regal Cinema in the 1930s was a field owned by Curnocks, the bakers, and it was known as Curnocks Corner. Local shopkeepers kept their horses there.
Peter Johnson
It is understandable that Peter Johnson refers to the field as owned by the Curnocks. In fact, though, the site for the Regal was owned by my other Grandfather William Cushing who had a timber mill on the site. After William's death, his executors, including my father Albert Curnock, leased the site on a non-revisionable lease for 333 years to Mr Abrahams whose son undertook the building of the Regal on his behalf. Two of the male Curnocks, my father and his brother, married two of William Cushing's daughters. Several Curnock/Cushing weddings breakfasts took place on the site in the 1920s.
The Regal opened on Thursday March 8th 1934, as is evidenced by my grandparents' invitation to the opening (yeardate on the back.)
Tony Curnock
---