Armistice: joy, sadness and celebrations on the WW1 home front
Click for sources
The First World War ended in 1918, formally on the eleventh hour of the eleventh day of the eleventh month.
I was at school the day that peace was declared, and we children were sent home for a half day's holiday to celebrate the end of WW1.
Joy and sadness on the home front
The end of the First World War was a time of joy in many ways, but not for all those many families whose menfolk would not come home. As I write, I think of Harry Lauder, who was a well-known Scottish comedian. He started as a coal miner, but his gift of song and humour attracted attention, particularly in London, and around 1920 he was knighted. He too had a son who did not come home after WW1, and it was said that King George V always admired him for the song he sang afterwards:
Harry Lauder was well-known, but ordinary people who were unknown suffered the same loss and knew the same heartache. My grandmother lost her son, Arthur Ewens, and my aunt lost her fiance.
But joy prevailed
My mother's brother was killed on the Somme, but this was never really spoken of in the family. They felt that it was time to move on, to forget the nightmare and get on with life.
So the joy prevailed, and people began to organise celebrations.
Peter Johnson
Celebrations and 'peace parties'
I understand that there was impromptu dancing in the evening in main streets, but I was too young to see it.
The celebrations that I knew went on for a long time afterwards, and the children's street parties were no exception. Every street seemed to have one. They were also known as Peace Parties.
The street peace party in my road
A lot of preparation went into the street parties and they took time to organise. Our street party didn't happen until the following year, in August 1919. This was in Lopen Road in Edmonton (now Enfield) where I lived at number 116 with my parents and two brothers, Ted and Jim.
Money for the peace party was collected from door to door; games were organised and the street was decorated with bunting. Our mothers prepared the food, and fancy dresses were made.
Some streets had their teas on tables brought into the road itself, but we had our peace tea in the church hall of the local church, St Aldhelms. Afterwards, we came back to Lopen Road with its bunting and had fun and games. Whole families joined in. My friend's father who was a professional singer had a small harmonium which he brought out, and we sang to that. I was dressed in the colours of the Belgium flag; Ted was dressed as an Indian; Jim as a laundry woman; and his friend as a policeman. The fancy dresses were not elaborate because so little money was available, but a lot of creative ideas went into them.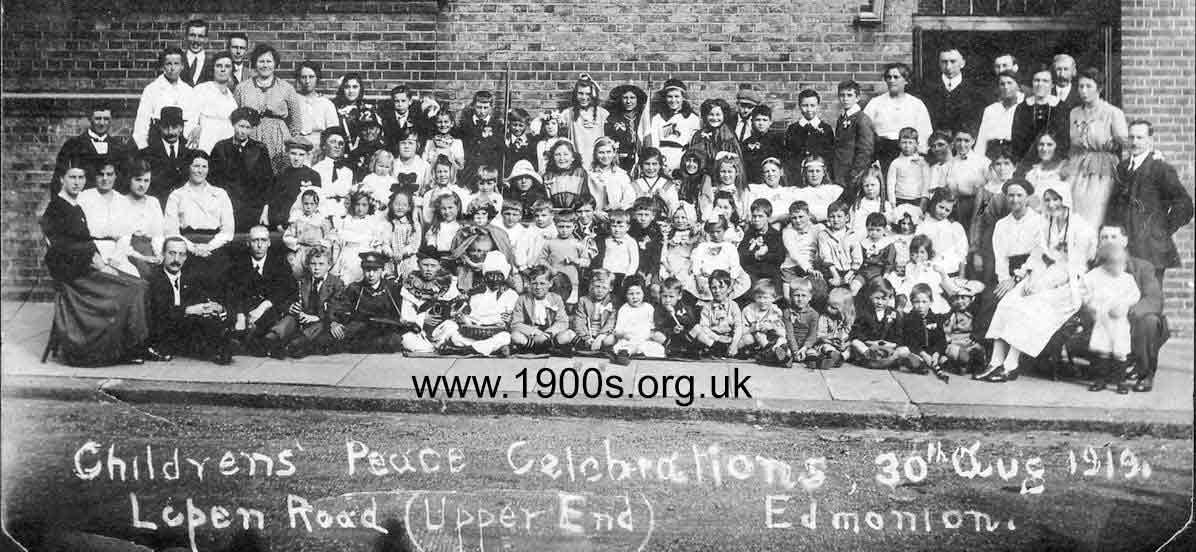 The building in the background of the above photo used to be a school and is shown as such on the 1894 Ordinance Survey map of the area. The building is now used as one of the church halls for St Aldhelms church, built in 1904.
Cliff Raven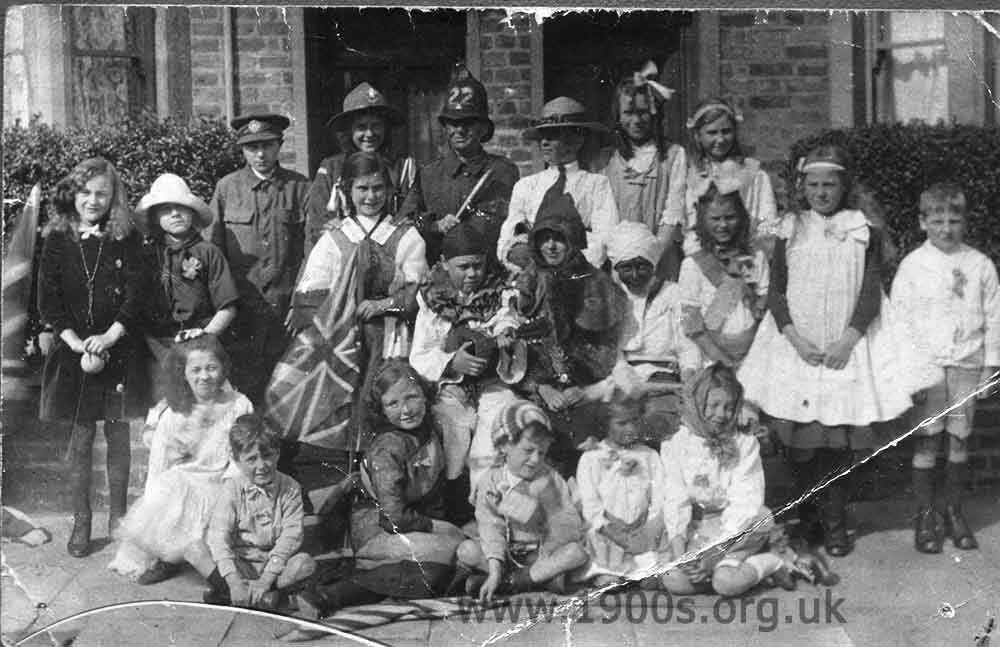 The Peace Party in Sheldon Road on the same estate
The war was over and I was nearly seven years old. Armistice Day was a day to remember. There was a row of bonfires down the centre of Sheldon Road where I lived in Edmonton. People came from everywhere and danced in the street.
Other Peace Parties
If you have a photo of a World War One peace party I would be pleased to include it here. The website has a number of World War Two peace party photos which are probably similar apart from the clothes everyone was wearing.
---
---