Off-ration meals outside the home during World War Two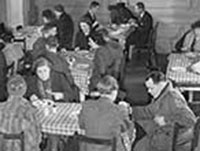 Food in all tea shops, work canteens and restaurants was not rationed, although, much of what customers would have liked to order was in short supply. So the tea shops, canteens and restaurants put in place their own rationing, allowing, for example, only one bun per customer.
Fresh fish was not rationed from the fish and chips shops. It was cheap and plentiful. There was always a long line of people waiting for the fish and chip shop to open. The fish and chips were served in newspaper. So we could either eat them out of doors if the weather was fine or take them home to eat.
Peter Johnson
'Off-menu' foods
Many foods were simply off the menu. There are stories of other foods being substituted for them - often without the customers' knowledge. Horse meat comes to mind.
School dinners were also off-ration, and the Government provided free school milk for children and set up British Restaurants for people at home.
After the war there was even greater rationing, shortages and general austerity. My experience of school dinners comes from that time.
A sample 'eating out' receipt from 1941
The following receipt is for nights holiday lodgings for a couple and their young son at Blackpool in 1941. It sheds a great deal of light the shortages, rationing and costs of living at the time: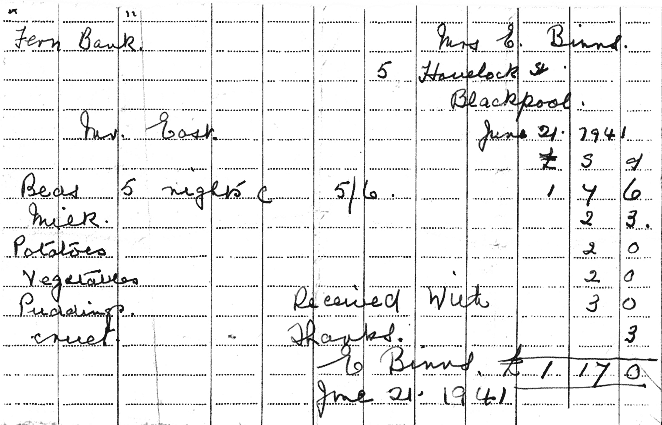 Overnight lodging, described as 'beds' cost 5/6 (five shillings and sixpence) a night.
The meals taken at the lodging do not appear to contain any protein such as meat, fish or eggs. Yet they must have been main meals because they seem to have consisted of potatoes and vegetables. These cost 4/- (four shillings) for the entire stay. Puddings cost 3/- (three shillings). Milk cost 2/3 (two shillings and three old pennies), but there is no indication of the quantity of the milk. There was nothing else at all consumed on the premises apart from salt and pepper, charged at 3d (three old pence), described as 'cruet'.
Clifford East, who donated the receipt and was the young son who consumed the milk, suggests that the protein would have come from eggs. He reports that his maternal grandfather was a registered poultry keeper during the Second World War, and that his family had eggs to take with them on holiday. These were given to the landlady to cook or to barter for some other form of protein.
Note that the receipt is not on headed notepaper. It probably came from a type of booklet that was common before computerisation and which consisted of duplicate sheets requiring a sheet of carbon paper to be inserted such that the seller kept a carbon copy still bound in the booklet and the buyer was given the torn-out top copy.
---
---