Postal deliveries, early 20th Century UK
By the webmaster's mother, 1906-2002
Why the post was so important in the past
Letters were very important when I was a child in the first part of the 20th century. There was no internet, so no video calls, and ordinary families did not even have telephones. So people would wait on the postman, if they were expecting news from the family.
Frequency of postal deliveries
Although it may seem excessive nowadays, there were four post deliveries a day, with the last one at half past nine at night. Remember that the post was the only way for most people to communicate. It was possible to post a letter in the mornings and receive the reply that same day. There was no first or second class postage.
Dreaded letters
The delivery that was really dreaded was the envelope with black-edges. It contained black-edged paper and brought news of a death. (There is a whole section on death elsewhere on the website.) These letters were all too common during the First World War.
How to recognise postmen - their uniform
The postman in my early 1900s childhood was always in uniform.
He wore a hat that was unusual, a sort of graduated peak back and front of very dark blue, almost black, as shown in the photo with a thin red stripe round the top. His uniform was the same dark colour, and his trousers had a thin red stripe down the outside of the leg.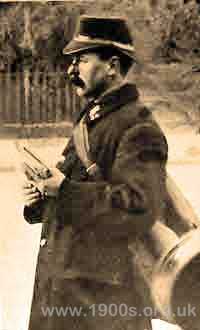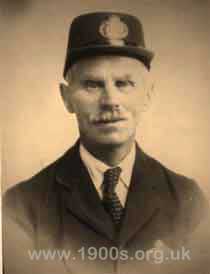 How the postman carried the deliveries
Postmen had a lot of of walking to do as some of the rounds were long and a considerable way from their base.
Sometimes they were able to carry their deliveries in a bag on their back as shown in the photo above. This was a specially made large bag with a reinforced flat bottom which enabled it to be rested onto the ground frequently without wearing out too quickly.
Postmen also used a special cart as shown in the following photo. It was made of cane, coloured red to match the trim on the postmen's uniform, marked GPO for the General Post Office and with its own cover against bad weather.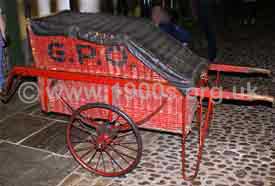 Cash on delivery: COD and parcels
My mother doesn't say whether the post and postmen undertook what was known as C.O.D which meant 'Cash on Delivery', usually for parcels. I knew it from my childhood in the 1940s, but it may have referred to other carriers. If you know, please contact me.
The Boxing Day tip
All regular delivery men, whatever they delivered, expected a tip at Christmas. It was customary for the postman to call on Boxing Day for his Christmas present called a Christmas Box. This would be just a few coppers.
---