The home front fights back against the WW2 bombs
Here are some things which I recall from 1942-43.
House numbers on pavements
During 1942 house numbers were painted on pavements in front of every so-many houses. Presumably this was so that if a row of houses was obliterated they could still be identified. A 'St. John's Ambulance cross' against the number signified a 'first aider'.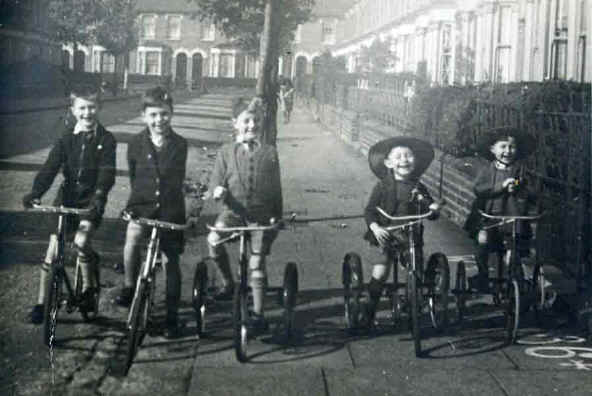 Fire watching and fire fighting
My father worked at the head office of the Abbey Road Building Society, (later to become Abbey National) at the top end of Baker Street, London. The building had a tower, rather like a bell tower, about five storeys up, and this was the look-out position for the fire watchers, of whom my father was one. He sometimes took me with him, which involved an all night stint looking out over the local area of London, and presumably alerting the authorities as necessary. Imagine watching the London Blitz from that vantage point!
Going without sleep for firewatching
My father was employed in an engineering factory working 12 hours shifts 6 days a week, and between shifts he was expected to do fire watching on the factory roof.
Peter Johnson
Where we lived, firewatching shifts lasted the entire night, which meant a full day at work, a full night without sleep and then another full day at work. Firewatching shifts may of course have been shorter in other areas.
comment in a group
Firewatching had to be from a good vantage point which meant being high up and out of doors whatever the weather. My father told the story that he was firewatching on a muddy ridge when he slipped down it and was covered in mud. So he went home to clean up, but once he got there he decided not to bother to go back. Fortunately no-one ever knew because there were no fires that night.
another comment in a group
Firewatching overnight was not just the preserve of men. My mother who was in a reserved occupation had to do fire duty along with the men. I gather that they all huddled together under rather smelly blankets, staying awake at night on the roof of the building where she worked.
Josephine Cock
Incendiary bombs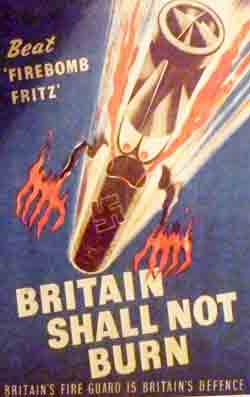 The fire brigade teach residents how to put out incendiary bombs
Every able bodied male had to do fire drill, if only to protect his own house. I can remember my father lying in the street trying to put out a small practice fire with a stirrup pump. He was holding the end of the pipe in one hand and in the other a metal plate with a slit in it to protect his face while another man was pushing and pulling on the pump handle. The pump was standing in a bucket of water. The fire brigade went around the streets teaching groups of residents this fire fighting drill.
Peter Johnson
How to use a stirrup pump
Every household had to be within easy reach of a stirrup pump and buckets. The pump needed several people to work it: one on the pump itself and others to ferry buckets of water to the pump.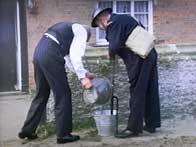 Pumping was extremely hard work and the person doing it had to keep a foot on the base of the pump to keep it still as he or she pushed down and pulled up.
Neil Cryer
One Sunday morning, I was walking with my father along Fore Street, Edmonton. A stick of incendiary bombs had evidently fallen on the houses and the flats above the shops along the east side of Fore Street (a main road running northwards out of London). These had penetrated the roofs and had landed in the houses. A burning mattress had been heaved out of an upstairs window and had landed on the pavement - a rude awakening!
Landmines
A landmine - also known as a parachute landmine - fell on or near the North Middlesex Hospital, and this may have been the one that flattened the Clarke house in Pymmes Villas, but I was really too young to remember. I remember the surviving Clarkes living in Gloucester Road which must have been where they were re-housed.
Butterfly bombs
There were also butterfly bombs. These were small round canisters from which protruded a rod at the end of which were some wings. They were painted in various bright colours so as to look like a child's toy.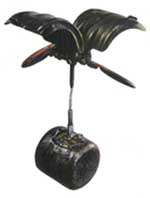 They did not explode on impact but lay on the ground until some small child picked it up out of curiosity. The result is too evil to think about. We were shown an example of one of these devices at school assembly and there were posters put up to warn people.
Peter Johnson
The requisition of garden iron railings
All of the front gardens in the street were kept very neat and tidy, with wrought iron railings set on low brick walls, bounding the pave ment, usually in front of a privet hedge. In 1943 they were all removed, because steel was needed for the war effort. They were never replaced.
What became of the iron railings?
Sad to say a great deal of evidence has emerged that most of the collected iron was never used. Apparently more was collected than required and that it was the wrong quality. It seems likely that the Government of the Day didn't dare admit to the mistake and deposited the railings in rivers in the dead of night. The speculation is that many of these beautiful artifacts are still lying rusting in the Thames. Elsewhere on this website there is an example of railings intricate design on a quite ordinary house.
Neil Cryer
Stumps from where railings were sawn off can still be seen in old pavements.
---