What Bevin Boys were and how I became one
What Bevin Boys were
Bevin Boys were young British men conscripted to work in coal mines instead of the armed forces in the Second World War. They were named after Ernest Bevin, a member of the Labour Party, whose idea it was, and who was Minister of Labour and National Service in the Coalition Government of Winston Churchill.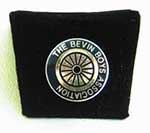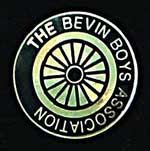 At the beginning of the war, mining was not a reserved occupation, so young miners were conscripted into the armed forces, just as young men in other occupations were conscripted. Some young miners volunteered for the armed forces - possibly for reasons of patriotism coupled with a desire to leave the mines. Since many of these young miners had been employed on the coalface, it became necessary for them to be replaced by older miners. The work was hard, and some of the older men found it difficult to work for a full week. So a shortage of coal arose at a time when the need for it was increasing due to the war industries.
To compensate, Ernest Bevin announced that all men being called up for National Service could opt to serve in coal mines instead of the armed forces. Not surprisingly the response was inadequate.
How Bevin Boys were selected
So towards the end of 1943 it was decreed that 10% of every call-up batch of young men would do their National Service as miners.
The selection of who was to become a Bevin Boy was made on the basis of the National Service number which every new recruit was given at enrolment. A digit between 0 and 9 was arbitrarily chosen for each batch of intakes, and everyone whose National Service number ended with that digit was directed to a coal mining area for training.
National Service numbers were kept throughout the period of national service. So Bevin Boys were released from the mines at the same time as the members of the armed forces who had been enlisted in the same enrolment batch.
How I became a Bevin Boy
Some years before my call-up I had joined the local branch of the Air Cadet Corps, which the government formed with the purpose of giving training which would help when joining the RAF. Accordingly I had thought that I would be called into the RAF when I attained my call-up age. I even attended a pre-joining RAF medical some weeks before the due date. A few weeks later, though, I received a letter which stated that the last digit of my National Service number matched the one picked out for the coal mines. Enclosed was a railway warrant to Stoke on Trent, where I was to be given accommodation and training before attachment to a mine in the North Staffordshire coalfield, 150 miles away from where I lived.
My date of call-up was 7th February 1944, my eighteenth birthday.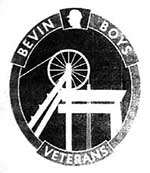 Training for Bevin Boys
The training lasted for six weeks and was divided into two parts.
The first part lasted four weeks and consisted of alternate days in a lecture room and underground in an old pit which was no longer in production. We were given instruction on the working and layout of pits, the safety procedures and general advice on how to behave. In both the lecture room and underground we were instructed by experienced old colliers.
The second part of the training which lasted two weeks consisted of instruction in haulage work above ground.
How I felt about becoming a Bevin Boy
I have often been asked this question.
Becoming a miner was certainly not what I and most of my colleagues wanted but there was no alternative open to us and the work had to be done. Therefore we accepted the situation and knuckled down to it. My parents were more concerned than I was.
Many of us had reservations of course, not knowing whether claustrophobia would be a problem, but fortunately it did not prove to be a worry for me. Two of my intake, though, did get exemption on the grounds of claustrophobia. They immediately volunteered to be commandos.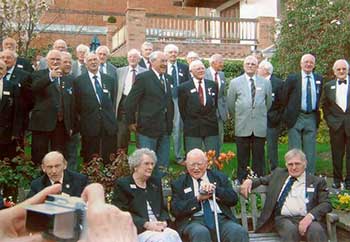 In retrospect, my time spent as a Bevin Boy was an interesting experience. Although it was not what I had wanted to do, I was privileged to meet and work with experienced miners in a completely new environment. The camaraderie was wonderful, and it is difficult to imagine better support being available in any group.
By the time that my period as a Bevin Boy had come to an end, which was after 3 years and 8 months, the nature of the work had given me an awareness of the need to be able to improvise, and this has proved of great advantage in many spheres in what are, as I write in 2014, the 67 subsequent years.
---