School teaching as a WW2 conscript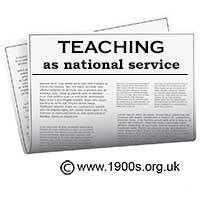 Although it is well-known that young men were called up to serve in the Second World War, either as soon as they reached 18 or after a period of referral, what is less well-known is that the service was not necessarily to the armed forces. 'Service' meant 'service to the nation' which could take various forms according to the nation's needs and the qualifications of the conscript. Working as a miner in the coal mines was one example. This page describes being conscripted as a school teacher. The information that it contains comes from firsthand experience, not gleaned from books or other secondary sources.
____
As told to the webmaster by Lewis Elton, a conscripted teacher in WW2
Why my national service was teaching
I left school in July 1941 and went on to do a two-year wartime degree in physics at Christ's College, Cambridge. Wartime degrees took only two years. So this took me to July 1943 when I was called up for war service. I was 20.
When the call-up board looked at my qualifications, they said that my degree implied that I could teach Higher School Certificate maths, i.e. sixth form maths. Apparently there was a severe shortage of such teachers, because, at the time, teaching was not a reserved occupation and young male school teachers had been conscripted into the armed forces. So the board told me that I would be drafted as a sixth form maths teacher.
My experience of teaching for my wartime service
I thought quickly and said, "OK, but may I find my own job?" I knew that this wouldn't be difficult because of the shortage. The board agreed.
I decided to choose a live-in post at a boarding school in a pleasant area of the country where there would be good walking and cycling with minimal likelihood of air raids. This led me to St Bees independent school on the edge of the Lake District National Park in Cumbria. I was there in these pleasant surroundings until the war ended. The work wasn't taxing and I did manage the hoped-for walks and cycle rides.
Others, of course, were probably not as fortunate.
Acceptable qualifications for wartime conscript as a teacher
It was my science qualifications that lead me and others to the school teaching route for national service in WW2. Young men with qualifications in non-science subjects were not exempt from the standard armed-forces route. My older brother had a history degree from Cambridge and was drafted into the army which, fortunately, he loved. He was fluent in German and spent much of this time there interrogating German prisoners to establish what part they had played in the war.
Married women conscripted back to school teaching
Until the Second World War, women school teachers had to give up teaching when they married. This changed during the war and has continued ever since. As a child I remember a man knocking at our door and telling my mother who was a school teacher until she married in 1932 that she was required - yes, required - to go back to teaching. No claims for exemption were considered.
Lyndsey Blake
Reflections on my time as wartime teacher
I did not stay in school teaching after the war, but I was pleased to have had the experience. It served me in good stead afterwards, when having done a London full-term external degree, I went into university teaching and research.
---
---