The portable writing desk: common before the mid-20th century
While I was growing up in 1940s and 1950s Britain, most communication was by post - snail mail as it came to be called decades later. People (mostly men, who were at the time considered more suited to tackling business and financial matters) had a 'desk' in which they stored their writing materials and which provided a surface for writing.
While I was growing up, new desks were of the bureau type, but older men still used either special custom-made portable boxes or - if they had the space - office style desks.
Appearance of a Victorian/Edwardian portable writing desk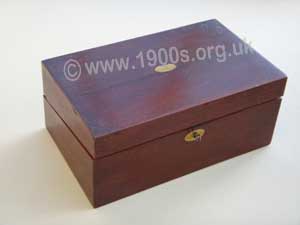 My grandfather's portable desk was probably new in Victorian or Edwardian times, and I am fortunate to have it in my possession.
The desk can serve as a model for other such desks in ordinary working class households, although more expensive desks would have had more compartments and been more decorative.
Writing surface of a Victorian/Edwardian portable writing desk
When opened, the lid of the desk forms a smooth and slightly tilted writing surface with the part of the lower half of the desk. Although this is difficult to explain in words, it is clear from the photo.
Both parts of the writing surface lift off to give storage spaces underneath.
The surfaces are covered in a coloured fabric, sadly now badly faded.
At the back of the desk, (as seen by the user), are holders for pens, ink and small items of stationery.
The compartments of the desk
The photo shows the pen compartment and two other compartments for odds and ends. The pen compartment has a curved lower surface so that the pens can be picked up and removed and replaced more easily.

---
---