A state-of-the-art UK grammar school, 1936-1950s
During the Second World War, there was no money for new schools, and the years after the war were still ones of austerity. So, as Copthall School was built just before the war, it was held up nationwide as an example of modern excellence. This was still the case when I was a pupil there in the 1950s. Visitors regularly seemed to come round to view the school's design and facilities.
The original design and plans for Copthall School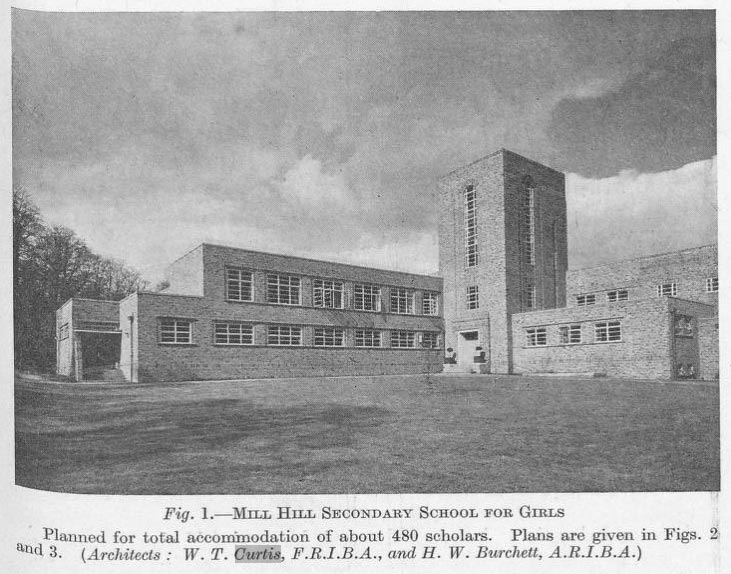 The school was built on the site of a manor called Copt Hall, and this gave it its name.
This artist's impression of its appear­ance comes from the Internet Archive which includes in its archives the book Modern Building Practice, Vol 1: Design & Planning by Percy Thomas published in 1936.
The link under the photo leads to a page in the book which, if you click, links to further pages of detailed plans of the proposed rooms in the school. By my time in the 1950s, these had changed a very great deal! And you may like to check how much they had changed by your time.
Copthall was officially in Page Street, Mill Hill, and its address and main entrance were there. Today the main entrance has been moved sideways, although the main building is essentially the same. Copthall's current address is Pursley Road, Mill Hill, London, NW7 2EP.
The implied proposed curriculum
The book implies that the school was originally planned according to what I can only describe as old-fashioned views of the place of women in society, with the emphasis on domesticity.
By the 1950s that had changed. In particuar, full scientific and foreign language curricula were in place, and a number of pupils went on to university.
The school in the 1950s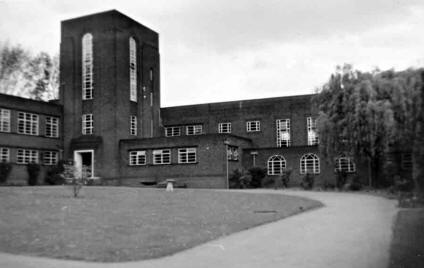 Postcard photographs of the school were on sale while I was a pupil at Copthall, and I bought copies because I have always prized photographic records. The aerial photograph shows the buildings, tennis courts and sports field as they were then.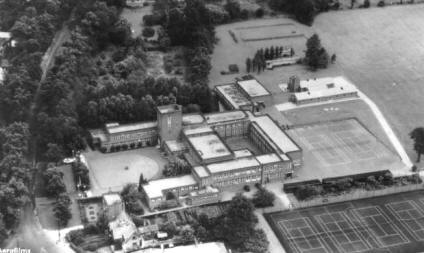 This first photo shows something of the imposing appearance of the front of Copthall. Not that we pupils were ever allowed to use its entrance. As I, like many of my fellow schoolmates cycled to school, it felt natural anyway to use the side entrance which led directly to the bicycle sheds. These sheds can be seen by the near tennis courts in the enlarged version of the aerial photograph. (At that time cycling was relatively safe as there was so much less traffic on the roads.)
The school inside
While I was at Copthall, I always thought how elegant it was. It even had central heating. When I went back for a visit in later life, I realised how much dark wood there was, particularly in the school hall where the floor, unless memory betrays me, was oak parquet.
---
---