Swimming baths, early 20th Century UK
By the webmaster's mother, 1906-2002
In the summer holidays, one place we would go was to the relatively new Barrowell Green open air swimming baths. My experiences there - see below - could have happened to any working class girl in the early 1900s, at any swimming bath.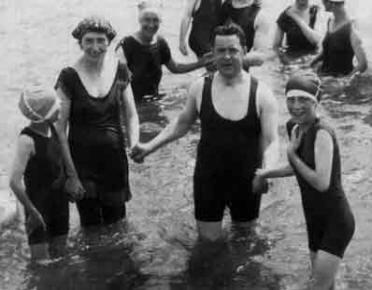 An improvised swimming costume
The baths were in a very select area compared with where I lived in Edmonton. One experience really brought home to me that I was the poor girl there.
As I had wanted to go swimming with my friends but had no swimming costume, my mother, who could see how upset I was, decided to do something about it. She took one of her old vests, cut and sewed the lover part into two legs and dyed the whole thing with the bluebag. This turned it mauve.
I was quite happy with my improvised swimming costume, and off I went. Not being in a proper suit didn't matter to me at all - at the time.
Then, though, inside the baths one of the girls from the better-off Southgate area cried out, "That girl's got a vest on". It really upset me and I have never forgotten it.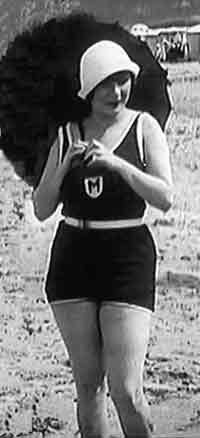 At the baths
As soon as we arrived at the baths, we would change and go in the water. Then after a while, we would come out, dress and lay out our swimming things to dry on the grass bank beside the bath.
Then we would have our sandwiches and change to go back into the water again. In fact our swimming things were not really dry and it was pretty uncomfortable getting into wet things, but we had to put up with that.
We would stay a the baths until sunset which was closing time.
A few minutes before closing time, the staff would turn on spray which came from the handrails around that bath. I'm not sure if this was to clean the area at the end of the day or to alert us to it being closing time. It was probably both.
The location of Barrowell Road swimming baths
My mother's notes say that Barrowell Green Open Air Swimming Baths were in Southgate, but various visitors to this site have tried to correct this.
Actually, at the time it was! Until 1965, the Borough of Enfield as it is now, was split into the three boroughs of Edmonton (where my mother lived), Southgate (where the pool was) and Enfield. You can see remnants of the previous boroughs in sites such as Southgate Town Hall (which is now confusingly in Palmers Green, not Southgate - but was originally in the Borough of Southgate).
The baths were on a site now occupied by a recycling area, address Barrowell Green, Winchmore Hill N21 3AR. They were halfway down Barrowell Green on the left coming from Green Lanes. Google maps will show the exact location. They lay slightly back from the road with a turnstile entrance on the left and a turnstile exit on the right. Diving boards were at the road end and separate changing rooms were on left. In my time, there was a cafe at the other end on right. The baths opened in 1913 and closed in 1979.
Rick Starling
Winchmore Memories
---
---