Wedding photography, mid-20th Century
In the mid-20th Century, there was no digital photography. Professional photographers could not supply CDs of their photos and guest's own photos were usually of poor quality. The sorts of cameras that ordinary people had, while still expensive, were not themselves good quality. There was no automatic focus or brightness contral and a poor result could not be viewed in advance of having the photo printed and deleted at the time. In contrast professional photographers normally had extremely expensive good quality cameras and they were experienced at setting focus distances and light levels as well as framing what they were taking.
Professional photographs, mid-1900s to 21st century
In the mid-20th Century it was normal for professional wedding photographers to finish taking their photographs after the start of the reception.
Then they rushed back to their studios to produce proofs of what they had taken, code them and mount them for display. The mounted proofs were then rushed back to the reception where they were displayed for everyone to look at and place their orders.
The extreme haste was quite a feat because the photographs were on film that had to be developed and printed in a dedicated darkroom.
The display of the proofs at the reception meant that guests were more inclined to order copies in the euphoria of the moment than they might have been later, which of course made financial sense to the photographers. They then sent out the completed orders later by post.
Professional wedding photograph albums
The immediate family and the bride and groom generally bought albums from the photographers. These came in white leather or simulated leather covers, embossed in silver lettering with appropriate words, and containing the printed photographs of their choice. The photographs were always black and white. Bound with each photo was a protective page of tissue paper.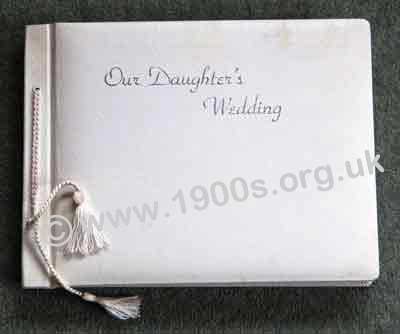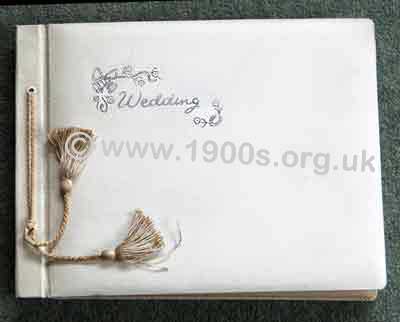 Guests' photographs
At my wedding, one guest was ahead of the game and had colour slides film in his cameras. Sometime later, I was able to get coloured prints from the slides that had worked well.
---