Experiences of horse-drawn trams; history of London trams
Based on notes by the webmaster's mother (1906-2002), see sources
The power of public road transport in the early 20th Century
When I was a child in London in the early 1900s, passengers could travel on the roads by horse-drawn bus, horse-drawn tram, electric tram or trolleybus. This page is about horse-drawn trams.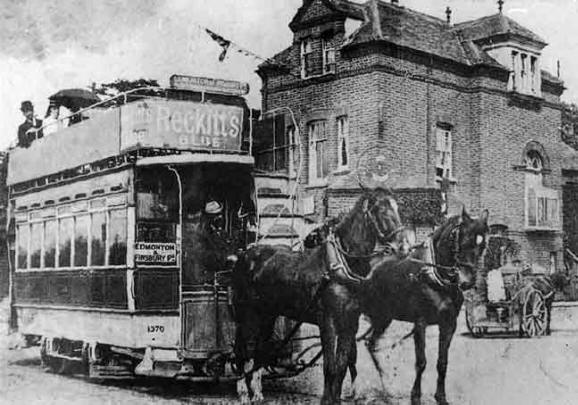 Tram rails and tram manoeuvrability
Trams ran on rails which had tracks set into the roads. Consequently they were not at all manoeuvrable: The driver couldn't steer and other road users had to keep a constant look-out to get out of their way.
Trams were particularly hazardous for cyclists because their wheels could easily get caught in the channels on either side of the rails unless the cyclists made a point of riding across them rather than along them. Fortunately, as it was expensive to lay the tracks, trams ran on relatively few routes.
Open top trams
Trams, like buses, had open tops when I was a child. On the old buses page there is a photo of the flaps on the backs of the seats in front that could be pulled over knees when it rained.
Tram conductors
My Aunt Em was one of the many women who was drafted in to work on the trams during World War One, when so many men were away fighting (or dead or injured). She often let us children have a free ride.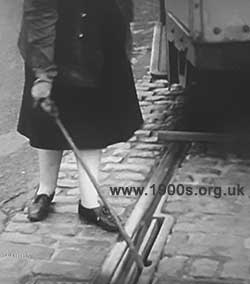 The horses who pulled the trams
Double deck trams were usually drawn by two horses, as the photo shows. Single deck ones were usually drawn by a single horse. Horse-drawn trams were expensive to operate due to the required frequent changes of horse as well as stables, feeding, grooms etc.
What happened to the London trams? History of London trams and the end of London trams
The tram in the above image belonged to the then North Metropolitan Tramways. This company later became part of Metropolitan Electric Tramways and the former horse tram routes were electrified before becoming part of London Transport at the latter's formation in 1933. With the exception of three tram routes using the Kingsway Subway, all of North London's trams had gone by WWII and were replaced in the main by trolleybuses. London's remaining trams finally bowed out in July 1952, leaving London tram-less until the modern Croydon-based system appeared. During the last week of London's trams, many cars (as trams were called by staff) carried the announcement "Last tram week. On July 5th we say goodbye to London".
Darren Kitson
---
---