What it was like to travel in early London buses
Based on notes by the webmaster's mother (1906-2002), see sources
The top decks of old buses
Buses and trams had open tops, and it was fun to sit on the top deck to see the scenery as it passed by. It could be cold though, part­icularly in a strong wind.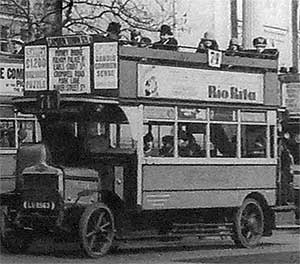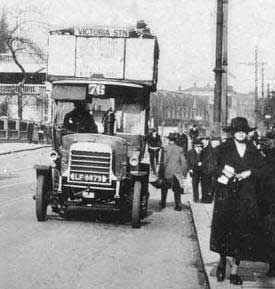 Weather protection on top decks of old buses
There was some weather protection on the top decks. Waterproof covers for passengers on the top deck for use in the rain. They were attached to the seat in front and could be unhitched to go across our knees - see the photo below.
Covered top uses and trams came into service sometime during the 1920s.
Safety on top decks of old buses
There was a rail round the top decks to stop standing passengers from falling out. In this, they served their purpose, but anyone determined, including children larking around, could fall out. The rail can be seen in the photos on this page.
Seats on old buses
The seats were just wooden slats, but they weren't as uncomfortable as this may sound because the slats were profiled to fit a seated person. Being slats they let water through to the floor when it rained.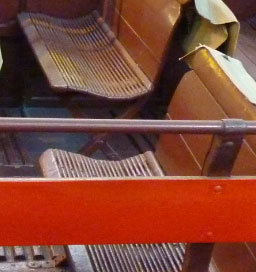 The backs of the seats were made of some sort of waterproof material which could be clammy on a hot day.
---
---