Knife and scissor grinders:
street vendors of the early 1900s
The knife and scissor grinder was one of the street merchants who came round the streets. He only came two or three times a year. He was always welcome, because although knife and scissor blades were made of steel, they not the stainless sort that kept their sharp edge. They blunted quite quickly and needed to be sharpened regularly.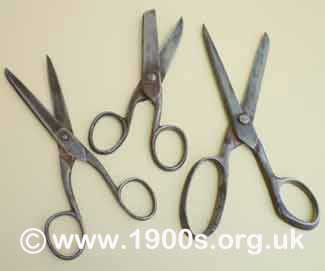 Women used scissors and knives every day for making meals and most days for mending and dress making. Men used knives for mending boots and for all sorts of odd jobs. Carving knives were used on Sundays with the Sunday roast.
The knife and scissor grinder travelled on foot with a handcart with three wheels, one in front and two at the back, and he covered a large area. Goodness only knows where he slept. He had a grinder with a large wheel inserted into his cart.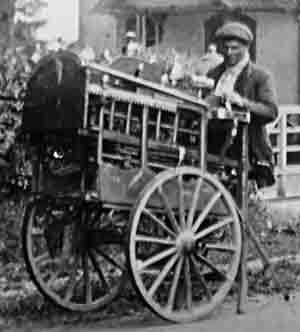 The knife and scissor grinder would ply his trade around the streets. First he would stand in the road and call out in his sing song voice:
"Any knives or scissors to grind?"
Then, having alerted the women, he would knock at every door in the road with the same question. He worked his stone grinding wheel with his foot using a treadle and he always wore on an apron.