The kitchen in a working class
house in the early 1900s
The meaning of the word 'kitchen' in the early 20th century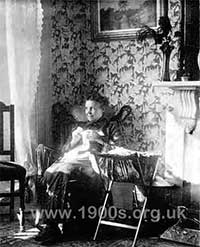 The word 'kitchen' has changed its meaning over the years. In the early 1900s when I was a child on the working class Huxley Estate, the kitchen was where the family really lived, ate, worked and played. The scullery was where the food preparation, cooking and washing took place. The first sketch on the house plans page shows how the two were connected.
Being where the family spent its time, the kitchen was comfortably furnished.
The walls
The wall on the passage (hall) side of the kitchen, against the stairs, was quite attractive tongued and grooved wood and it made up the side of the coal hole where the coalman shot the coal when he delivered.
The other walls were plastered and wall-papered.
The floor
The floor was essentially wooden planks but it was covered with oil-cloth.
The kitchen window
The back wall had a sash window which looked out onto the back yard and garden.
The built-in cupboards
On one side of the fireplace was a recess with a built-in cupboard in which was kept the everyday crockery and all the food except the perishables. (These were kept in the safe just outside the scullery door.)
The kitchen changes its name
By the 1940s most residents of the Huxley Estate were referring to the kitchen as the 'living room'. The 'scullery' became the 'kitchen'.