May Day celebrations at school, mid-20th century UK
In spite of the austerity of wartime Britain and the years immediately afterwards, my school managed to celebrate May Day in the traditional manner, not unlike how my mother describes May Days in the early 1900s. May Day was May 1st and was always taken as the beginning of the good summer weather.
Dancing round the maypole
We had a maypole in the playground and we danced round it intertwining its ribbons just as my mother describes in some detail.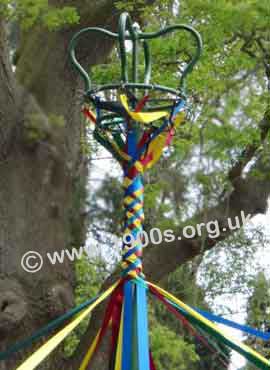 Probably the maypole was an old one, so no significant costs could possibly have been involved in putting on the celebrations.
The May Queen and her ladies in waiting
We also had a May Queen and her ladies in waiting. These were older girls who wore fancy white dresses and had flowers in their hair. The May Queen also wore a white dress. No doubt these dresses owed much to the sewing ingenuity of the girls' mothers, as clothing coupons would not have been spared for them.
During the celebrations, the May Queen was formally crowned by one of her ladies in waiting.
Choosing the May Queen
I well remember being May Queen at Edgware Primary School. It would have been in my last year there - 1952.
Sometime before the day, about six girls from my year were paraded around the classes, and the children in these classes voted for who they wanted to be May Queen. How the original group were chosen escapes me, or perhaps I never knew. I think the girls who came second and third were the Attendants. I was still hobbling around with one leg in plaster (after breaking my foot) so goodness knows how I won - sympathy vote perhaps!
The order of ceremonies
The event started with a procession around the playground with all the children lining the route! Then the May Queen and her attendants went up on to a raised "stage" where the Queen was crowned by the Queen from the previous year. Sally Porte was one of my attendants, but I don't remember who else. Miss Sturdy was the organiser.
After the crowning, I had to make a speech. Then there was dancing round the maypole, with various classes taking part.
The invited audience
Parents were allowed to come. So there was much applause for all those taking part.
Margaret Clayton
(formerly Margaret Culley)
---