The funeral wake in ordinary families early 1900s England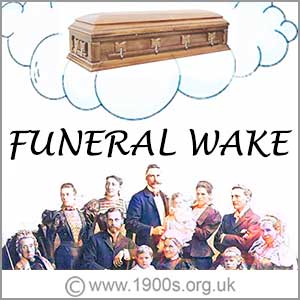 A funeral wake, or just a 'wake', is an event where friends, colleagues and family gather together after someone dies. Traditionally it took place before the funeral, but today it is normally immediately afterwards. This was the case even as early as late Victorian and Edwardian times, as remembered here. The page describes the reasons for having a wake, the origin of the name 'wake', where ordinary people held their wakes, the refreshments served and what happened.
____
By the webmaster's mother (1906-2002), edited with further research by the webmaster
Why have a funeral wake?
A wake serves several purposes. It is an opportunity for people to mourn together, to say a final goodbye to the deceased person in the company of others and to act as a demarcation between the past and the future so that people can move on. Probably it means different things to different people, depending on how well they knew and relied on the deceased person. My parents always said that without a wake, people close to the dead person found it more difficult to settle afterwards.
The origin of the term 'wake'
Traditionally, a dead person should not be left alone between dying and being buried. This meant one or more people staying with the coffin all the time, including overnight which in turn meant staying awake. As I understood it, the 'wake' term arose from this having to stay awake. I assume that the family and other mourners took it in shifts, but as a child I knew nothing of this.
As can be seen on television, it is customary with royalty for men to stand at each corner of a coffin while it is lying in state for visitors to file past and pay their respects. They certainly take shifts. This practice, though, is long-gone for ordinary people.
Where the wake was held and the refreshments
In my childhood in the early 1900s, everyone would go back to the family's house after a funeral and have refreshments together. The food was mostly in the form of ham and trimmings followed by cake. It was customary for neighbours and friends to donate something - albeit minimal - so as to relieve the family of any catering in this busy and stressful time. I don't remember any alcohol being served, only numerous cups of tea. it was common practice for someone else to be asked to look after the tea-making so that the family could mingle.
What people did and said at the wake
The admirable intentions of respectfully remembering the good that the deceased person had done and of offering support to the family did not always work out. Wake gatherings would often end in wrangles, especially when the dead person's behaviour and property were discussed.
Perhaps this wasn't surprising as so much of what ordinary people had in the way of furniture and clothes were hand-me-downs, and there was little ready money. Family members often thought and announced in no uncertain terms that they wanted 'this that or the other' or that it had been promised to them. Even if there was will, which was by no means certain, it would not have included everything.
My father used to make two comments which summed it up:
"If you've only got two sticks, they'll fight over them", and "You can't choose your relatives, but thank God you can choose your friends."
Nevertheless, in spite of the wrangles, most people seemed to enjoy wake get-togethers, as some of them would not have seen one another since the last a funeral or wedding.
---
---