The first three headmistresses of Copthall School, Mill Hill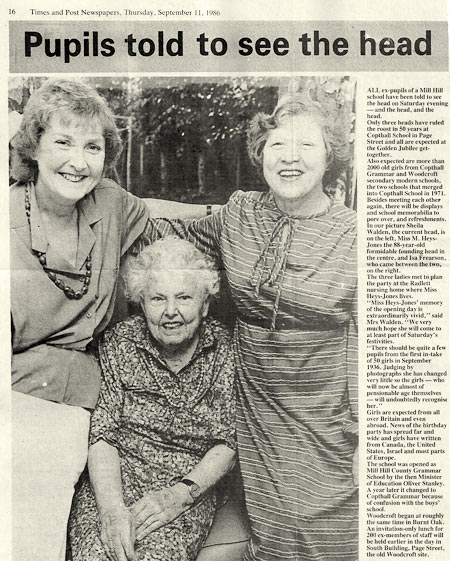 ALL ex-pupils of a Mill Hill school have been told to see the head on Saturday evening - and the head, and the head.
Only three heads have ruled the roost in 50 years at Copthall School in Page Street and all are expected at the Golden Jubilee get-together.
Also expected are more than 2000 old girls from Copthall Grammar and Woodcroft secondary modern schools, the two schools that merged into Copthall School in 1971.
Besides meeting each other again, there will be displays and school memorabilia to pore over, and refreshments. In our picture, Sheila Walden, the current head on the left, Miss M. Heys-Jones the 88-year-old formidable founding head in the centre, and Isa Frearson, who came between the two, on the right.
The three ladies met to plan the party at the Radlett nursing home where Miss Heys-Jones lives.
"Miss Heys-Jones' memory of the opening day is extraordinarily vivid," said Mrs Walden. "We very much hope she will come to at least part of Saturday's festivities.
"There should be quite a few pupils from the first in-take of 50 girls in September 1936. Judging by photographs she has changed very little so the girls - who will now be almost of pensionable age themselves - will undoubtedly recognise her."
Girls are expected from all over Britain and even abroad. News of the birthday party has spread far and wide and girls have written from Canada, the United States, Israel and most parts of Europe.
The school was opened as Mill Hill County Grammar School by the then Minister of Education Oliver Stanley. A year later it changed to Copthall County Grammar because of confusion with the boy's school.
Woodcroft [the school with which Copthall merged] began at roughly the same time in Burnt Oak. An invitation-only lunch for 200 ex-members of staff will be held earlier in the day in South Building, Page Street, the old Woodcroft site.
---
---