Sources for the
early 1900s material
The origin of this website lies with seven substantial and closely written volumes penned by my mother. In them she recorded what she saw around her as a child in a working class family on a working class Victorian-style terraced housing estate in the early 1900s.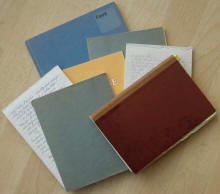 I believe that her recollections are unique. Although quite a lot is known about life above and below stairs in the big houses of the time, very little, as far as I know, encapsulates so comprehensively the lives of the working classes who lived on Victorian-style housing estates without paid help. The reasons are not difficult to see because anyone with such knowledge would be an unlikely author. My mother, like most children of the time from such estates, left school when she was 14 and received no formal education afterwards. Her excellent powers of observation and memory are without doubt, as is her obvious enjoyment and satisfaction in what she called 'jotting things down'.
However, my mother's punctuation and spelling were not all that they might have been, and she had the habit of taking her recollections off along sidetracks as thoughts occurred to her. So not only have I been faced with transcribing volumes of the spidery writing of her generation and social class, I have also had to identify recurring themes and edit them together into topics which I thought would be interesting as web pages. The fact that this was possible is the result of two things quite unusually working together: (1) that my mother, with her elementary schooling background, bothered to write so much, even though she was fully aware of its grammatical and structural shortcomings; and (2) that I have been in a position to put her writing into a form that is available to the wider public.
In places, I have added information that I remember my mother talking about but which she omitted from her written recollections.
Where my mother left unanswered questions which I believed significant, my cousins and visitors to the website have been generous in coming to my rescue with their own family recollections. All contributing individuals are acknowledged on the pages concerned.
I have also used documents filed away by my father in the 1930s.
I have felt it important to illustrate the pages but suitable illustrations are slow to locate. There are two reasons why it is not just a matter of going round to historical displays and photographing reconstructions. One is that photography is not always allowed and the other is that my parents' work has enabled me to see reconstructions through the eyes of the past. The result is that although they do add an emotional feel for the times, they are all-too-often far from accurate. What I need are either new photographs of still-existing 'time capsules' or old photographs - whatever their condition - taken in the final years of the nineteenth century and the early to middle years of the twentieth century.
The process of making available the full scope of my mother's recollections is still on-going, and all help with additional information and pictures will be gratefully received.
For suggestions on how to find your way around the recollections use either the search box or the top menu which links to further menus.

---
---