Dairies and milk deliveries
in 1940s and 1950s Britain
I can just remember the dairy in Edgware, when I was a young child in the 1940s. It was called the United Dairies or just the UD, and was a very clean looking shop.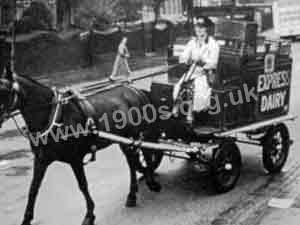 Just behind the shop was the large depot which housed the horses that were used for the home deliveries. There was also an office there where the odd pint of milk could be bought. The main impression that the depot made on me was the permanently wet floor. I suppose that it was frequently sluiced down with water to keep it clean.
Milk deliveries
In the early 1940s, the UD delivered milk from a horse-drawn float. My mother would look out to see that no neighbours were watching and then go out to the road to shovel up the horse's dung for the garden.
I must still have been very young when the horse-drawn deliveries were replaced by motorised vehicles. Around the same time, the shop closed, presumably because milk, butter and cheese were available from grocers. The milk deliveries continued though.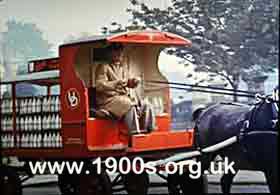 The milkman
The milkman always wore a uniform, which I think may have been different from one diary to another. Milkmen I saw always had a white peaked cap, a white overall and a longish of apron to protect their trousers.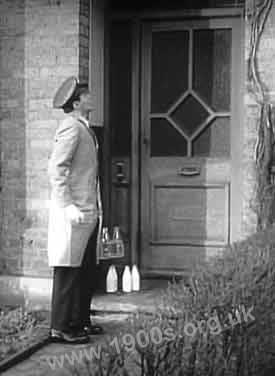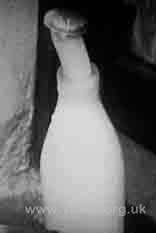 The milkman called for payment every week. He put the money into a large leather shoulder bag which had separate pockets for the different denominations of coins.
The milkman's gloves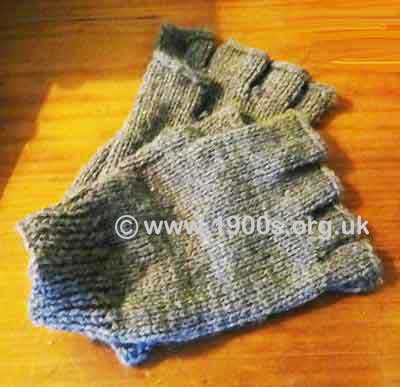 In winter the milkman's hands must have got very cold, as he needed his fingers free for handling the money. Like other delivery men in winter, he wore knitted gloves which were open at the top parts of the fingers - see the photo below.
The milkman's cap badge