Coal mine working conditions in WW2
A Miner's/Bevin Boy's Pay
When I became a Bevin Boy in 1944 my pay was £5 per week. I was provided with a pair of boots with steel toe caps and a safety helmet but no other clothing. Other necessities such as lodgings, kneepads, water bottle, 'snapping tin' (lunch box) I had to buy for myself.
At that time, coal mining embraced varied types of work with various rates and structures of pay. Many workers were paid on piecework rates and were remunerated according to a variety of measurements such as weight, yardage, number and size of roof supports fitted and number of shotholes drilled or fired.
Conditions in the mine
Miners/Bevin Boys worked a five-day week with an eight hour shift each day.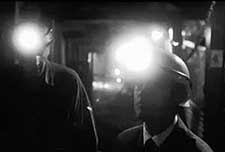 In general, the work was not uncomfortable. I was lucky that our pit generally had wide and fairly high tunnels so that we could walk upright. There were times, though, when we had to work in a kneeling position with our backs to the roof.
Dust could sometimes be a problem but usually was minimised by the excellent ventilation. At that time stone dust was more of a worry than coal dust. Miners with health problems were usually those who had had many years working in bad conditions.
Lavatory facilities
For lavatories miners used the niches in the sides of the passages which had been made primarily for them to back into while wide machinery was passing - rather like the niches that one sees nowadays in railway tunnels. It was simple to dodge into one of these for relative privacy. Fortunately the ventilation system was excellent throughout mines and anyway, by the next day, with the coal face having moved on, a new niche would be the target.
Normal lavatory facilities were impractical as the coalface moved forward about 6 feet every day.
Bill Hogg
Bath and shower facilities
Bath and shower facilities were provided at the bit but they were inadequate for the numbers of workers. So together with other miners we Bevin Boys had to use the bath and shower facilities at an old disused pit some miles away. We travelled there from our lodgings and changed into our working gear. We were then transferred by covered lorry to the pit head. At the end of our shift we were taken back again and, after showering and changing, we returned to our lodgings.
Bath and shower facilities were not always provided
Not all mines had bath and shower facilities. My neighbour used to come home black with coal dust from a mine in Scotland.
Bill Hogg
---