Pawnbrokers in the early 20th century
By the webmaster's mother, 1906-2002
A pawnbroker's trade and shop symbol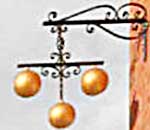 Pawnbrokers shops were quite common when I was a child in the early 1900s. They could be recognized from some distance away because there were always three balls hanging outside, usually of a gold colour.
How pawnbrokers traded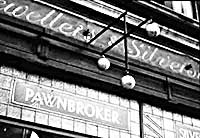 The idea was that anyone in need of ready cash would take one or more things that they owned to the pawnbroker who would loan them a certain amount of money using the loaned items as security. The amount of the loan was based on what the pawnbroker thought he could sell the things for, plus commission or interest for himself.
The goods could be redeemed at any time up to a year and a day if the loan was repaid. If it couldn't be repaid, the goods reverted to the pawnbroker who sold them. Pawnbrokers did a good trade because people were much poorer in my childhood in the early 1900s.
The disgrace of needing to use a pawnbroker
Although women in Edmonton were clearly visible to everyone as they queued outside the pawnbrokers, in others areas, families tried to keep their needs for a pawnbroker quiet.
To my knowledge, there was often a stigma about having to use a pawnbroker. So children, rather than their parents, were sent with the things to pawn, and the pawnbroker received them round the back of the shop. If they were met by anyone they knew on the way, they were told to say that they were taking the things to their aunt.
Volunteer at the Black Country Museum
Objects pawned
Pawnbrokers would accept anything that they could sell later.
I recall seeing women standing outside with bundles of clothes and bedding waiting for the shop to open on a Monday morning. Then they would redeem these bundles at the end of the week when or if their husbands brought home enough wages. It was a vicious circle in that, once started, it had to continue.
Children's boots were a common pawnbrokers' item. I say boots not shoes because leather boots were what children wore. I don't know whether mine as a child came from a pawnbroker or were just someone's cast offs, but I do know that they were never professionally fitted to my feet. I have had misshapen feet and bunions all my life as a result.
The jewellery was mostly second hand and had been pawned more than once. Now that I am an adult, I have thought about it a lot and have wondered what stories of sadness there were behind the jewellery that couldn't be redeemed.
Example of poverty and the need to pawn possessions
My father-in-law used to tell us that during the depression they were so hard up that if he wanted to go to Bethnal Green to see relatives he had to pawn his watch for the fare. It used to take months to get the watch back, but he did it a few times.
Name withheld
Pawnbrokers' receipt book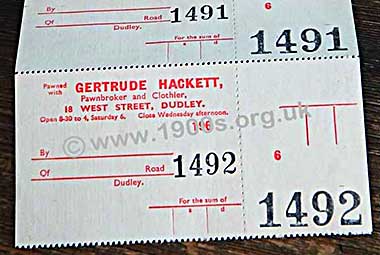 Pawnbrokers in the 1911 Edmonton census
Our pawn shop in Edmonton was run by two brothers by the name of Evans. One window was given over to jewellery and the other to men's clothing.
I was unable to find pawnbrokers named Evans in Edmonton in the 1911 census. There were, though, three Messer brothers were at 119 Silver Street, all brothers-in-law to the main occupant David Punnett. The brothers were Henry Messer, 29, a pawnbroker manager David Messer, 20, a clerk, and Horace Messer, 17, a shop assistant in a pawnbrokers. Messer brothers did set up a pawnbrokers business in Silver Street, as Doreen Buckland remembers it in the 1930s as run by brothers Harold and Horace Messer who lived at 4 Bulwer Road. Yet she reports that older people still referred to the shop as Evans.
The widespread custom of pawn shops
My Grandfather was Henry (Harry) Messer who owned the pawnbroker's and general outfitter's shops at 119-121 Silver Street. The business was originally owned by Mr Evans, to whom my Grandfather was apprenticed. When Mr Evans wanted to retire none of his children were interested in taking over the business and my Grandfather bought it. However, the locals often still referred to the shop as 'Evans'.
Mum told me that on Monday mornings the bus conductors, instead of calling out 'Bull Lane' (the nearest bus stop to the shop) used to call out "Arry's pawn shop!"
Pat Slocombe
---