Collecting sets of things: a children's hobby of bygone times
By the webmaster's mother, 1906-2002
Most children made collections of things that they would keep in a box or a book of some sort. Where I lived on the Huxley Estate in Edmonton, none of these collections ever cost us children anything because we didn't have any money to speak of. We collected things that were free, that were cast-offs or could be picked up around the countryside, like conkers and coloured stones. I once won a prize at school for a wild flower collection.
Collecting cigarette cards
A firm favourite for collecting was cigarette cards. Cigarette manufacturers, notably Players and Wills put a card in each packet of their cigarettes showing a picture on one side and descriptive information on the other side.
Examples of cigarette cards
There are examples of later cigarette cards on the page about preparations for the Second World War.
Smoking was common among the men, so it wasn't difficult for children to find someone to save cigarette cards for them. Often, though, the same cigarette card would keep appearing whereas some hardly ever seemed to. This led to swapping of cards which was another spirited and enjoyable activity for children.
Special albums for the collection could be bought from tobacconists for a penny. Filled ones have become collectors' items.
Cigarette cards were produced in themes such as trains, flowers, sportsmen, etc. Children would aim to collect a complete set on a particular theme so that they could complete an album.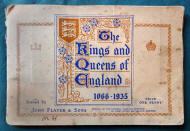 On the back of the cigarette cards was information about the topic illustrated on the front. This was usually very informative and it was repeated in the album close to the space for the card.
Collecting postage stamps
Other favourite for collecting was postage stamps. It was common practice to waylay anyone who received a letter or parcel, particularly if it was from overseas, to request the postage stamp.
The stamp was carefully torn round with its backing paper still attached and then soaked in water to dissolve the glue. The paper backing then just floated off the stamp. The stamp was allowed to dry and then stuck into a special book or album with a a small, transparent piece of paper coated with a mild gum. This was called a stamp hinge.
Children were often very proud of their stamp albums and would spend hours looking at them with other children and swapping duplicates. Whenever family or friends received a letter from overseas, they were always instructed to keep the stamp for someone or other.
Collecting bible stamps
Not unlike cigarette cards, from a collector's point of view, were Sunday School stamps on biblical themes - see Sunday Schools.
Collecting marbles
Marble collections were also common because boys played them outside with other boys as street games.
---