The London Underground (the tube) in 1940s wartime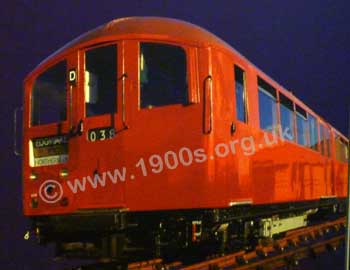 As a young child in the early 1940s, I was quite used to the London Underground - the 'tube' as it was called. Where I lived in Edgware at the end of the Northern Line, I had a good look at the trains every day as I passed the terminus. They were kept outside because the terminus itself had lost its roof as a result of bomb damage in the war. The fence was a transparent wire netting one so the trains were easy to see.
I often travelled on the Underground with my mother, too.
Underground trains and routes
The London Underground trains on the Northern Line were a distinctive bright red. There is a map showing the other lines, each marked in their own distinctive colour.
Buying tickets for the Underground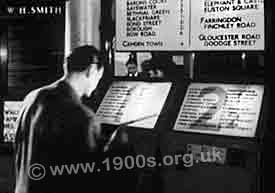 Although tickets could be bought at the station ticket office, there were also ticket machines, as shown in the photo. The prices on the machines are of course in the old pre-decimal money. Note how cheap they are my modern standards!
The ticket inspectors and collectors
Tickets had to be shown to an inspector at a barrier in order to get to the platform. At least, that was the idea, although in practice there was often no-one there or one was just waved on or ignored. Coming back from a tube journey, though, the same staff, now known as 'ticket collectors' were much more vigilant. It was very rare indeed for anyone without a ticket to be allowed through. Some people claimed that they had lost their ticket, which was less unreasonable than it might seem today, because tickets were so small. They may genuinely have lost their tickets, but it was not unknown for it to be 'tried on', to get free travel. After all, it was not difficult to get onto a train without a ticket.
Getting to the platform: Escalators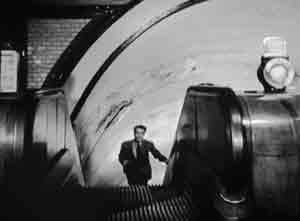 Since all the central London stations were underground, getting onto a platform involved using an escalator.
What I particularly remember about the escalators was that the treads were made of wood. In fact this continued in some stations for decades, gradually being replaced by stainless steel.
The older stations had lifts.
On the platforms
During World War Two platforms seemed packed with men in army, navy or air force uniform.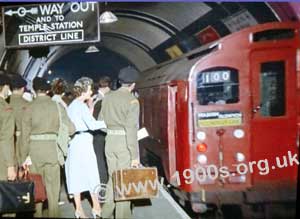 At night civilians used the platforms as underground air raid shelters. I used to see them settling down for the night when my parents took me to see relatives.