The London Underground
as a bomb shelter in World War Two
As a young child in the early 1940s, I was quite used to the London Underground. Between Edgware, where my family lived, and Golders Green, the journey was above ground. After Golders Green, the line went underground - which was generally regarded as safe from the German bombs of World War Two.
Sleeping on the station platforms in the blitz of WW2
I clearly remember underground tube journeys with both my parents, late in the evenings. (My father must have been home on leave, or maybe it was before he was called up for the army, and the experiences just stayed in my mind.) What struck me was all the people sitting and lying down on the station platforms, set up with their mattresses and blankets, ready for going to sleep for the night in what they saw as the safest of all underground bomb shelters.
I asked my parents if we could sleep on the platforms too, because to me - as a child - it looked like fun. But they always said no. I think they felt that if they were going to die, they would rather do it in their own home.
According to one of my cousins, I wouldn't have liked sleeping on a station platform anyway: Her mother travelled up to the City of London and back every day and often remarked on the dreadful stench of all those people bedded down together for the night. The station lavatories would not have been designed to cope with anything other than the needs of the occasional passenger. So there must have been a good number of open chamber pots - or worse.
Official London Underground shelters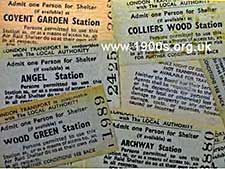 What I had not realised until years later when I started studying the old films of the time and talking to people older than myself who used to live in London was that the passages connecting the various platforms of the London Underground were officially air raid shelters.
There were tickets to use these underground shelters. This was in contrast to the platforms where it was first-come first-served.