Postmen in working class London
in the early 1900s
Postmen's uniforms
The postman in my early 1900s childhood was always in uniform.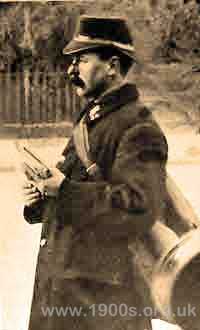 He wore a hat that was unusual, a sort of graduated peak back and front of very dark blue, almost black. HIs uniform was the same colour, and his trousers had a thin red stripe down the outside of the leg.
Postmen's rounds
Postmen had a lot of of walking to do, as there were four deliveries a day, with the last one at half past nine at night. Letters were very important in those days as ordinary families did not have telephones. So people would wait for the postman, if they were expecting news from the family.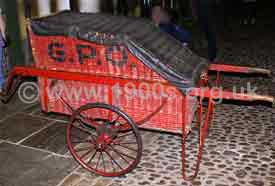 Postmen carried the letters in bags over their shoulders, but they used hand carts for taking parcels for delivery.
Dreaded letters
Dreaded letters had black-edged envelopes containing black-edged paper, and they brought news of a death - see funerals.
The Boxing Day tip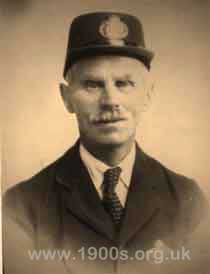 It was customary for the postman to call on Boxing Day for his Christmas present called a Christmas Box. This would be just a few coppers.